Fort Worth Texas Hotels area is located 32 miles west of Dallas in North Central Texas. The city has the nickname Cowtown due to its distinctive features and roots in the cattle ranching industry and is well known for its rich history and cowboys. It hosts around 9.4 million visitors each year.
Fort Worth can be considered a hidden tourism treasure in Texas. Its magnificent museums can give tourists a premium cowboy and old ranch lifestyle. It also hosts a diverse and rich cultural history. If you are a fan of the old west theme, you must visit Fort Worth.
Plan a family or a solo trip to Fort Worth to enjoy the beautiful public places, water gardens, and entertainment spots. Fortunately, we have short-listed the best Fort Worth Texas hotels where you can stay at.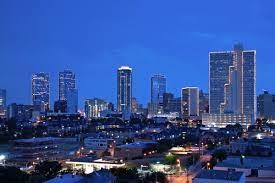 Image source: Forbes
Best Hotels To Stay In Fort Worth Texas
The following hotels are considered the best due to their customer service, facilities, luxuries, and ratings.
· Hilton Fort Worth
Hilton Fort Worth has an 8.3 and a four-star rating. It was built in 1921 but later renovated in 2005. If you are looking for a place where you can do business and have a family vacation, then Hilton Fort Worth is the place.
Their rooms have plasma TVs, air-conditioning system, express check-in, check-out, and free Wi-Fi. It has a 24/7 customer service desk if you need something at midnight. Disabled people are also welcome at Hilton Fort Worth.
The hotel offers fantastic views from its hotel rooms and a business center to conduct meetings. It also has a bar and café to have mouth-watering meals and a gym to stay fit. Their rooms have standard hotel equipment like safe boxes, bathrobes, showers, and other essential services.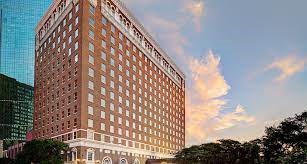 Image Source: Hilton
· Stockyard Hotel
Stockyard hotel has a fantastic four-star and a 9.1 rating. If you are looking for a place with an old-west touch, this is the place.
Both business travelers and tourists can benefit from Stockyard's hotel services. They have a super-friendly staff that will guide you from the entire check-in to the check-out procedure.
The comfortable rooms have flat-screen televisions, an HVAC system, a helping desk, and Wi-Fi in public areas. For business meetings, the hotel offers a business center and concierge service.
Another notable thing about Stockyard hotel is that it is pet friendly. People with pets will be delighted to visit this place.
Moreover, you can enjoy Texas meals at the stockyard dining and restaurants.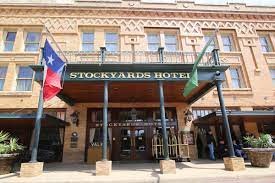 Image Source: Fort Worth
· Marriott DFW Airport South
Marriott DFW Airport South Hotel holds a four-star and an average rating of 8.8. The hotel was constructed in the year 2000 and later renovated in 2006.
It has more than 300 rooms, and each room accommodates wake-up calls, daily housekeeping, free Wi-Fi room entertainment, service request, and complimentary parking.
Marriott DFW offers luxurious food options from its chef-curated menu and has a Starbucks. Moreover, it has an indoor pool, gift shop, laundry, fitness center, and convenience store. Not only this, it also provides a complimentary shuttle service to the airport.
However, Marriott has a no-pet policy, so people with pets can have a problem.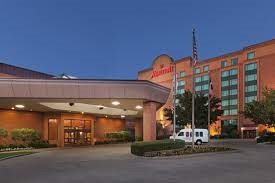 Image Source: Fort Worth
· Embassy Suite by Hilton Fort Worth-Downtown
Embassy Suite by Hilton Fort Worth-Downtown also has an impressive four-star and 8.7 ratings. Its construction goes back to 2007 and was renovated a year later. They have bi-lingual staff who can speak Spanish and English.
Embassy Suites offer complimentary evening receptions to give their visitors a good time. They have a pet-friendly policy, so people can stay here comfortably without worrying about leaving their pets behind.
Business folks should consider Embassy Suite because of its modern business center and meeting rooms. When the meeting is over, you get to take the guests to the luxurious on-site restaurants.
What's Stopping You From Booking Your Dream Vacation?
If you are planning to visit Fort Worth or any other place, visit iLikeToTrvl because we offer a one-stop solution for all your travel needs. From our website, you can find the best business and family vacation packages, including flights, hotels, cars, insurance, and much more.
Take a break from your routine and visit your dream location today! Why choose us? We have around 1000 satisfied clients who have visited more than 185 countries with complete payment safety.