If your definition of a perfect getaway is lying at a soul-soothing beach with a glass of martini and a plate of exotic fruits, Myrtle Beach pet friendly hotels area is the place for you. It has everything you need to make your vacation the best, with its incredible beaches, mouth-watering seafood, thrilling golf links, and various shopping outlets.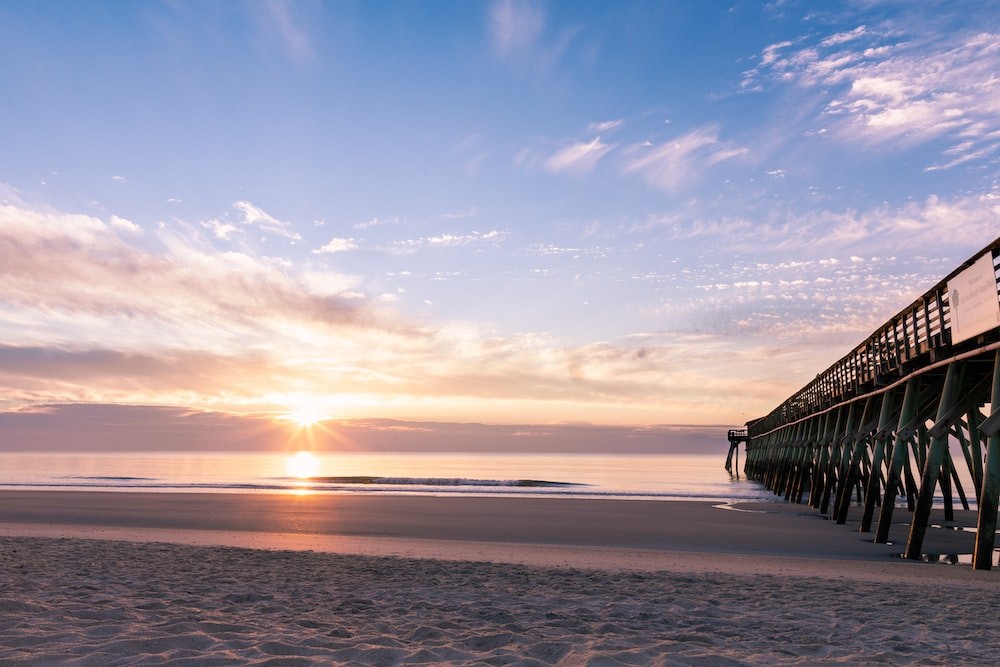 Source: Unsplash
Since it is one of the busiest vacation spots in the US, finding good accommodation in Myrtle Beach isn't easy. But things get even more complicated when you want to bring your 4-legged buddies on the vacay.
If you love your pets like family, we've got the help you need to make some unforgettable memories with them. Here's a quick list of Myrtle Beach pet-friendly hotels
Top 5 Best Myrtle Beach Pet-Friendly Hotels 2022
1. Coral Beach Resort Hotel
Known for its pet-friendliness and aesthetic ambiance, Coral Beach Resort ranks at the top of our list. The oceanfront views are even better when you lounge around in their vast pool deck while your kids and pets play nearby.
Coral Beach Resort has everything from well-decorated rooms and suites to entertainment channels and meeting areas. This excellent 3-star and 8.4 customer-rated resort also offers an entertainment section that includes everything from an arcade room to bowling alleys, giving guests in-house access to many fun activities.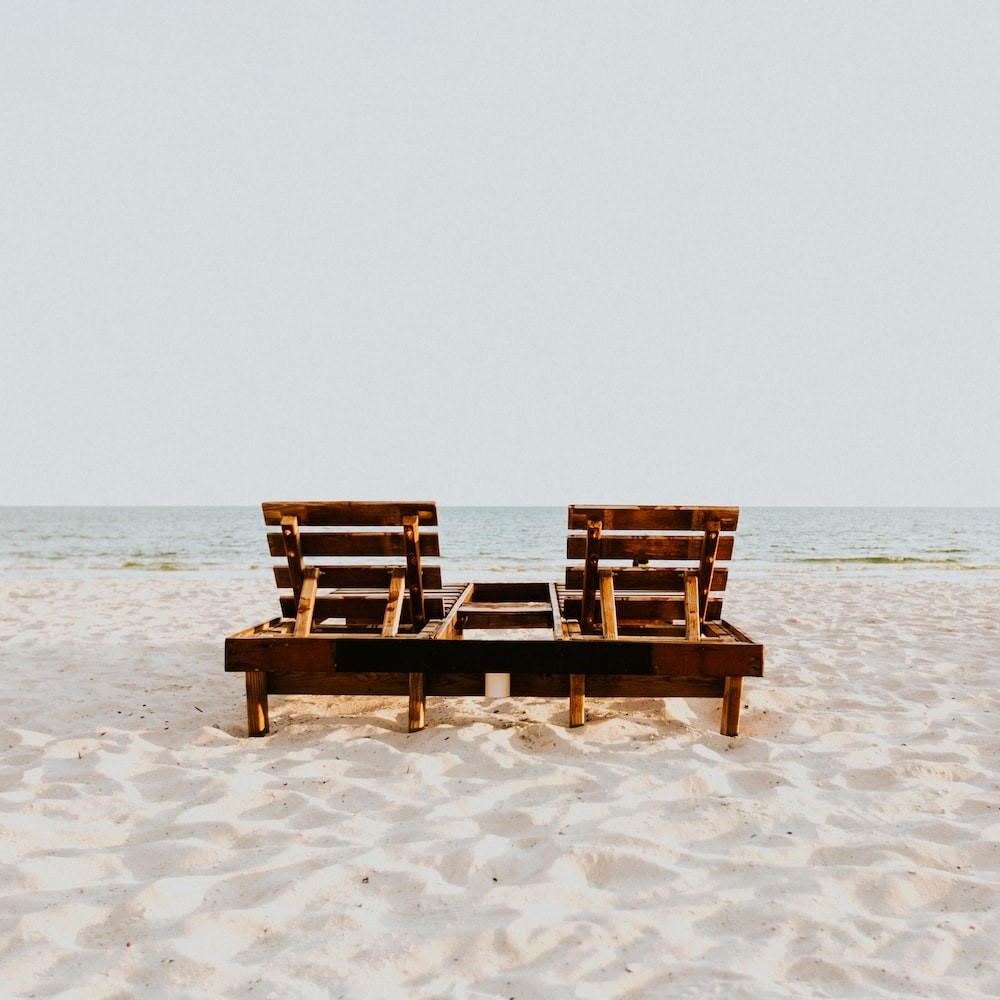 Source: Unsplash
2. Anderson Ocean Club and Spa by Oceana Resorts
Centrally located at one of the most prime locations in Myrtle Beach, Anderson Ocean Club and Spa is the third best hotel on our list. This pet-friendly hotel is known for its unique infrastructure, oceanfront views, and extensive amenities.
Anderson Ocean is often the first choice for golf players who stay here for its proximity to world-renowned golf courses. Anderson Ocean Club features pools, hot tubs, saunas, fitness centers, and spas for a soul-soothing and rejuvenating holiday. The hotel has an excellent customer rating of 8.5 with 3-star services, so there is no doubt that your pup will love it.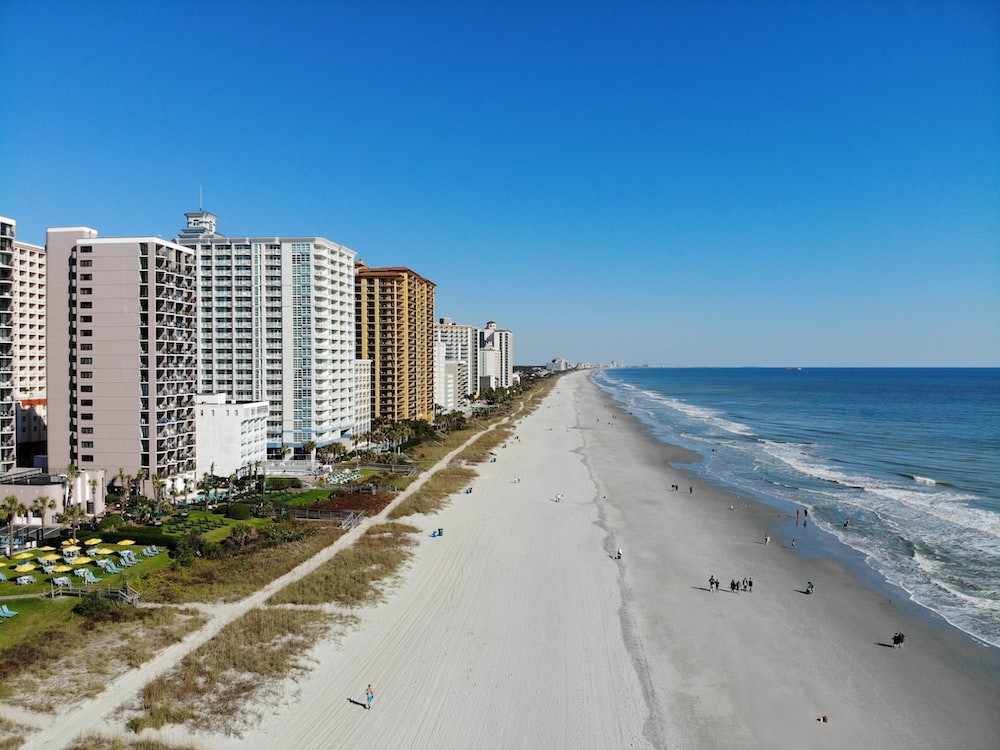 Source: Unsplash
3. Paradise Resort
This Myrtle Beach hotel is a living experience of paradise, as the name suggests. The oceanfront views and pools connected to the lazy river make this hotel unique and fascinating. With an excellent rating of 8.4, this 3-star resort ranks pretty high on our list.
You'll love it for the wide range of amenities available, from poolside bars for shuffleboards to fancy dine-ins and soul-relaxing spas. Daily morning breakfast, free Wi-Fi and parking, non-smoking rooms, and pools are some other features that make this hotel one of the customers-favorites.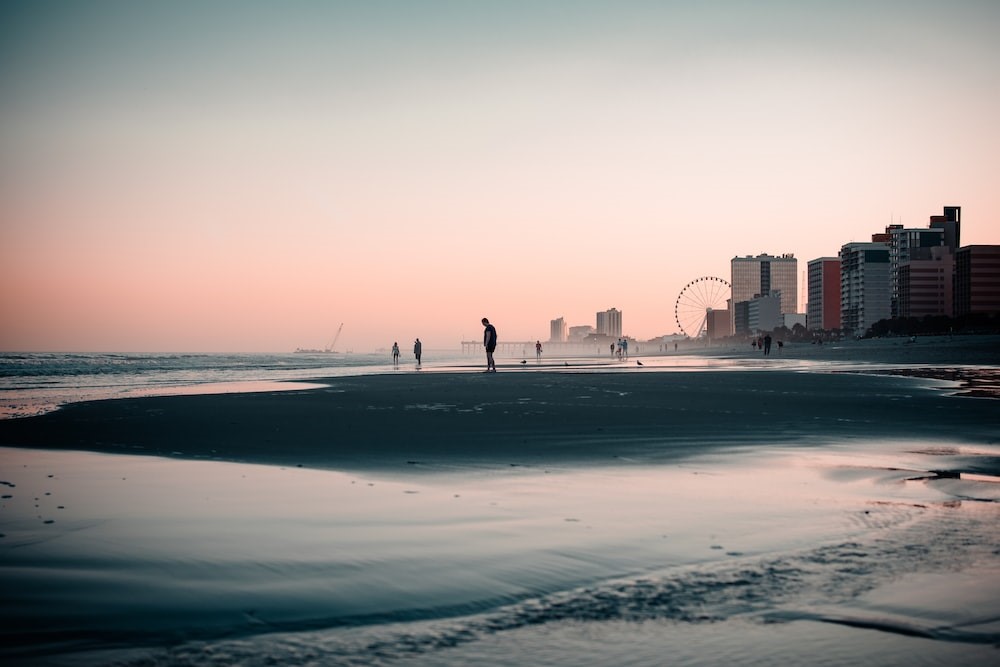 Source: Unsplash
4. Sea Crest Oceanfront Resort
Located on the shores of the North Atlantic Ocean ranks, the Sea Crest emerges as the fourth-best hotel on our list. Situated only 10 minutes from the Family Kingdom Amusement and golf courses, Sea Crest Oceanfront Resort offers you accessibility to some of the best family and dad-friendly entertainment in Myrtle Beach.
Sea Crest Hotel offers hot tubs, indoor swimming pools, and play areas for pets to ensure that you and your four-legged buddies have a soul-soothing and amusing vacation. You also get plenty of free Wi-Fi, parking, and stellar customer service. So, it's no wonder that this 3-star hotel has bagged a 7.4 customer rating.
Source: Unsplash
5. Sea Mist Oceanfront Resort
Located at one of the prime locations in Myrtle Beach, only 3.7 km from the airport, this hotel ranks at the top for its accessibility and convenience. Sea Mist Oceanfront is built on 15 acres of land and consists of 800 units ranging from suites to standard rooms and cottages. This three-star and 3.6 customer-rated sanctuary offer 24/7 services for the comfort and ease of its guests.
Sea Mist Oceanfront features multiple indoor and outdoor hot tubs, free Wi-Fi, and a seasonal waterpark only for the amusement of its guests. The resort also has pet-related services, including in-house dog walkers.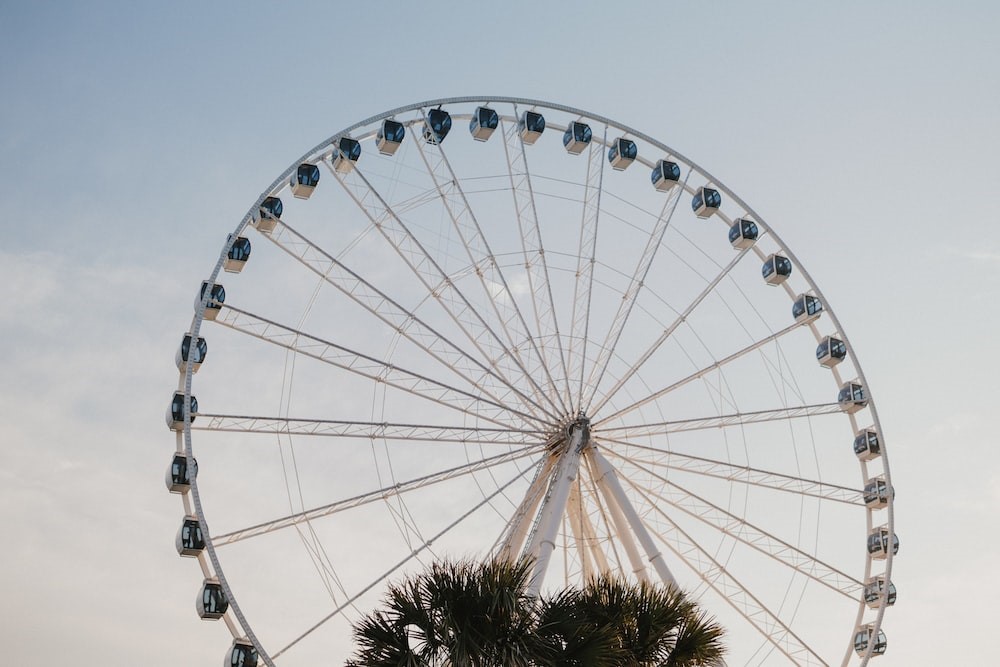 Source: Unsplash
Have Your Dream Vacation Now and Leave the Planning to Us
We understand that planning a vacation can sometimes feel dreadful and time-consuming. When all you need is a break from work. But no worries, we at iLikeToTrvl understand your dilemma and offer you a pre-planned vacation.
Our highly-skilled and well-researched teams derive one-stop solutions for all our traveling enthusiasts. So that they can focus more on having fun while we deal with all the details. We at iLikeToTrvl manage everything from booking hotels to arranging cars.
So contact us now to plan your dream vacation without any hassle.