Tulum is a popular holiday destination in Mexico that welcomes more than 2 million people each year. It is also home to famous archeological sites and is widely renowned for its stunning azure blue Caribbean seas and white sand beaches.
Visitors can enjoy bicycle rides in Tulum city in the fresh summer air, visit the historic Tulum Ruins, and wash it down with a beautiful night by the sea. Whether traveling with friends or as a couple, you will enjoy the beauty of Tulum.
Excited to visit? We have already shortlisted the best hotels in Tulum Mexico for you:
Top Hotels In Tulum Mexico
Here are the top hotels for enjoying your vacation in Tulum:
· La Valise Tulum
La Valise is one of the most popular resorts in Mexico. It has a high review rating of five stars and a 9.4 rating. The resort is located at the beachfront, and the well-designed structure exudes sophistication, luxury, and craftsmanship.
The rooms at La Valise are indeed a masterpiece. It is a private oasis combining jungle, sea, and local artistry. The reservation includes breakfast, natural soaps, lotions, free Wi-Fi, and other standard room equipment.
All rooms are equipped with 24-hour AC and showers. You can also ask for rooms with an ocean view and a private terrace that offers mesmerizing scenery. The resort offers a wellness program for guests consisting of Yoga, a spa, and other mind-relaxing activities. Moreover, you can also enjoy mouthwatering food at the NÜ Tulum.
However, remember that La Valise Tulum does not allow bringing children and pets.
Image source: La Valise Tulum
· Hotel Ma'xanab Tulum
If you want a memorable vacation, then Max'anab is the resort for you. The hotel has an extraordinary rating of five star and a 9.2 average review rating. Experience all the good things life has to offer on the white beaches of Tulum.
Their rooms are crafted by keeping Mexico's colors, art, and culture in mind. They offer several suites so you can choose according to your needs. You can have sea-facing rooms with showers, Wi-Fi, breakfast, room service, and AC. The hotel also has a spa and gym where you can relax your body and mind.
Ma'xanab combines flavors from the Yucatan Peninsula and all of Mexico. That's not it, enjoy the Mexican cuisine with the Caribbean ocean air.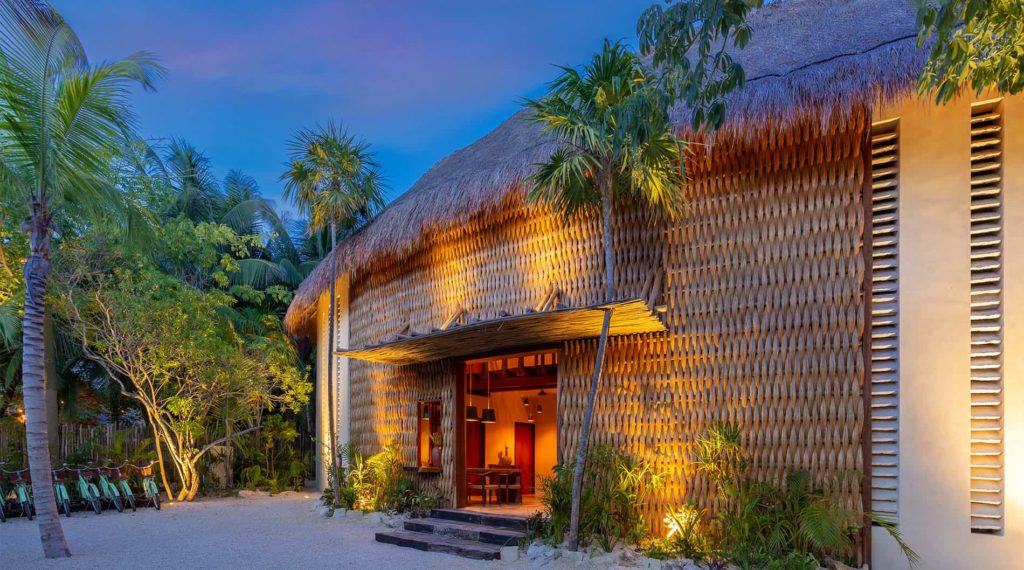 Image source: Maxanab
· Encantada Tulum
Encantada is located at the peaceful strip of Tulum beach. You can spend your day here enjoying breathtaking views of the jungle gardens and the Caribbean Sea. With a 9.6 average review and a four-star rating, Encantada Tulum is a proper boutique hotel.
Encantada has one of the friendliest staff of all. They don't miss a chance to comfort you. The hotel has wellness programs that include mind-relaxing activities and a spa. The rooms have free Wi-Fi, natural soaps, shampoos, breakfast, shower, and beach views from rooms.
Furthermore, the hotel also provides fresh cuisines made from local Mexican flavors cooked at a perfect scale, guaranteeing immense pleasure to your taste buds. However, the hotel does not allow bringing pets and children.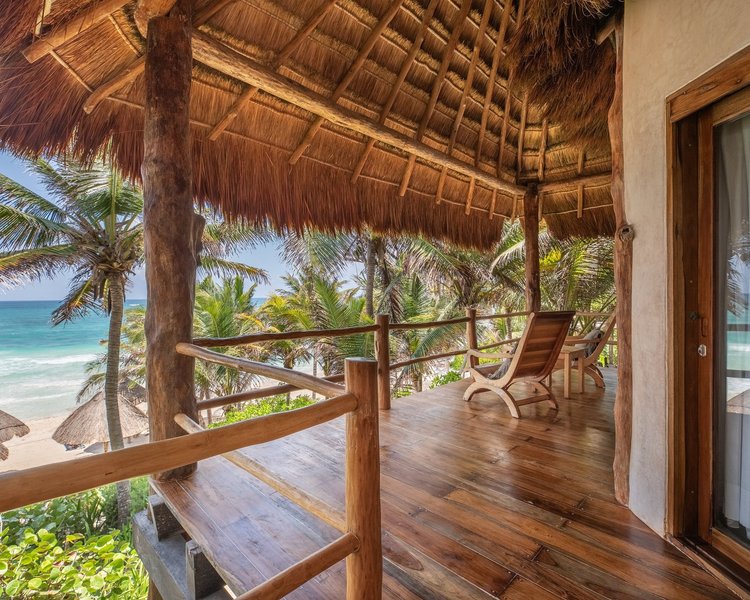 Image source: Encantada Tulum
· Habitas Tulum
Enjoy the mesmerizing views of Tulum jungles and the Caribbean Sea. People who have visited Habitas Tulum remember it in good words and as a place that can offer utmost luxury. It has a satisfactory average review rating of 9.0.
Habitas offers one of the best dinings in Tulum beach. The hotel specializes in creating food from the wood fire and pure, rich Mexican flavors. You can also find some Middle Eastern touches on their menu. Enjoy live concerts and wellness programs at the Habitas with loads of other adventures.
Image source: Habitas Tulum
Book Your Tulum Vacation Today From I Like To Trvl
Make your vacation memorable by planning the trip by knowing the necessary information before you travel and book from one of the best Hotels In Tulum Mexico. This is where iLikeToTrvl comes in. We compile the best hotels, tourist tractions, flights, tourist insurance, and much more all in one place.
Moreover, explore tourist destinations all over the world. Plan your trip today with iLikeToTrvl and get the best packages (flight + hotel). Why us? Because we have more than 700 successful clients who have traveled to 180+ locations.