Cancun is known for its beautiful white sand beaches, fun water sports, mesmerizing nature, and magnificent Mayan ruins. Not only that, Cancun offers attractive nightlife with some of the best cosines.
If you are a solo traveler planning a trip to Cancun, take the risk. You will not regret it. It is worth the money and time. Moreover, staying at the right hotel will make for a profound experience in Mexico.
We recommend the famous "Hilton Cancun All-Inclusive Hotel."
More About The Hilton Cancun All-Inclusive Hotel
Hilton Cancun All-Inclusive hotel is also commonly known as Iberostar Cancun after Iberostar Hotels & Resorts acquired it for an undisclosed amount in 2011. It has an excellent 9.1 customer review rating, making it one of the finest hotels in Mexico.
The hotel is just behind the mangrove preserve and covers over 100 acres of Mayan coastline. It is close to Cancun airport, it's only a 20-minute drive.
With more than 715 rooms, Hilton Cancun can host many guests simultaneously. The hotel is famous for its world-class hospitality and guest-friendly staff.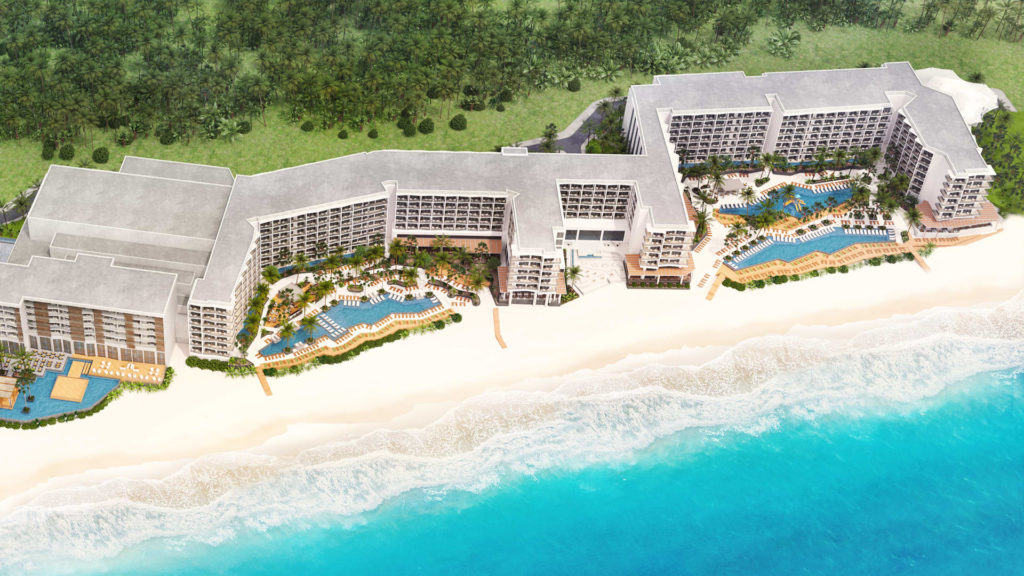 Image Source: Hilton
Room & Suites
Hilton Cancun offers various luxurious rooms & suites to its visitors. Your options include:
Tropical View Two Queen Bed Guestrooms
You get two queen beds, an ample closet, a sitting area, and a furnished gallery. The suites cover 430sq.ft and offer an excellent view of the mangroves.
Tropical View One King Bed Guestroom
The tropical view of one king bed guestroom is very similar to the queen bed guestrooms. They have a spacious room with a king bed, sitting area, ample closet, and a furnished balcony. You can find these rooms on the 1st and 4th floor.
Ocean Front Two Queen Beds Guestroom
These rooms come with the same features as others. However, they are ocean-facing and have two queen beds, a large HDTV, tables, chairs, and a stone-appointed bathroom. You could also opt for the oceanfront guestrooms with a king bed and similar specifications.
Swim-Up Tropical View One King Bed Guestroom
The 430 sq. ft swim-up patio is the utmost in luxury. The suites have a sitting area, table, chair, king bed, stone-appointed bathroom, ample closet, and a safe. However, the minimum age limit to enter the suite is 10.
You can have a family-size bedroom or a room for two with all the luxurious and mesmerizing views of the ocean as well as the mangroves.
Dining & Drinks
Make your stay memorable at Hilton Cancun with their fine dining experience. You can choose from the 12 dining experiences Hilton offers in five specialty restaurants. Whether it is lunch, dinner, or breakfast, you will enjoy it all. It's up to you what type of dining you prefer.
You can go for poolside meals at their pool bar, take your kids to La Churreria and cherish their delicious ice-creams and churro shop. If you want to enjoy the meal with your loved ones, go for Hilton's private dining experience.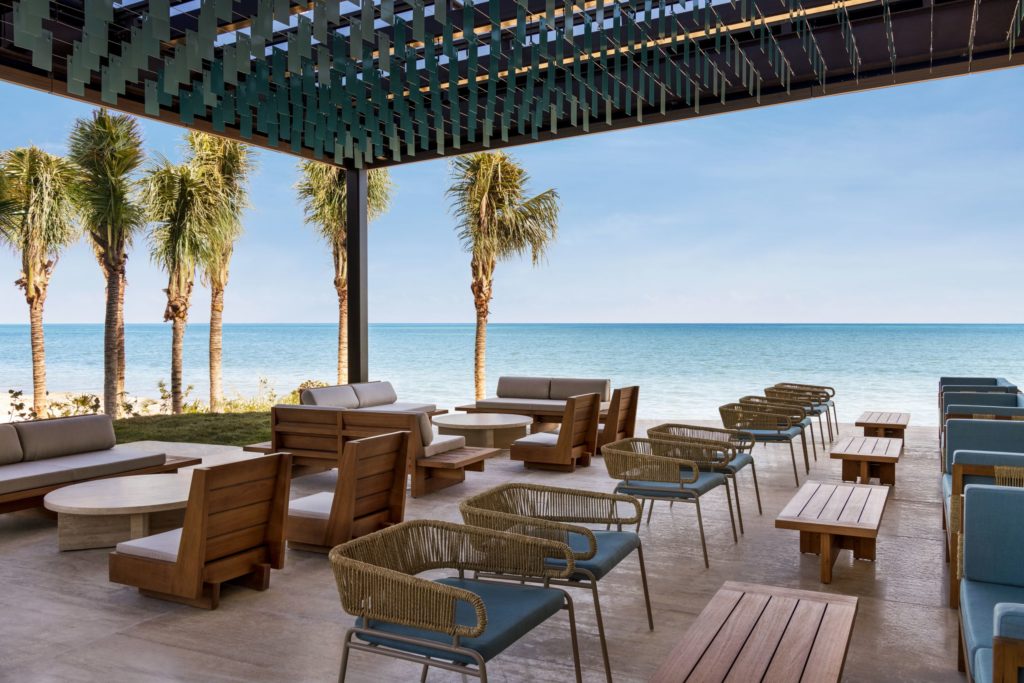 Image source: Hilton
Activities For The Entire Family
There is so much to do while staying at the hotel. Every day brings new fun and enjoyment to the visitors. If you are a sports enthusiast, enjoy volleyball or soccer on the beach and work out in their state-of-the-art fitness center or with group fitness. You and your family are guaranteed to have a memorable time to remember.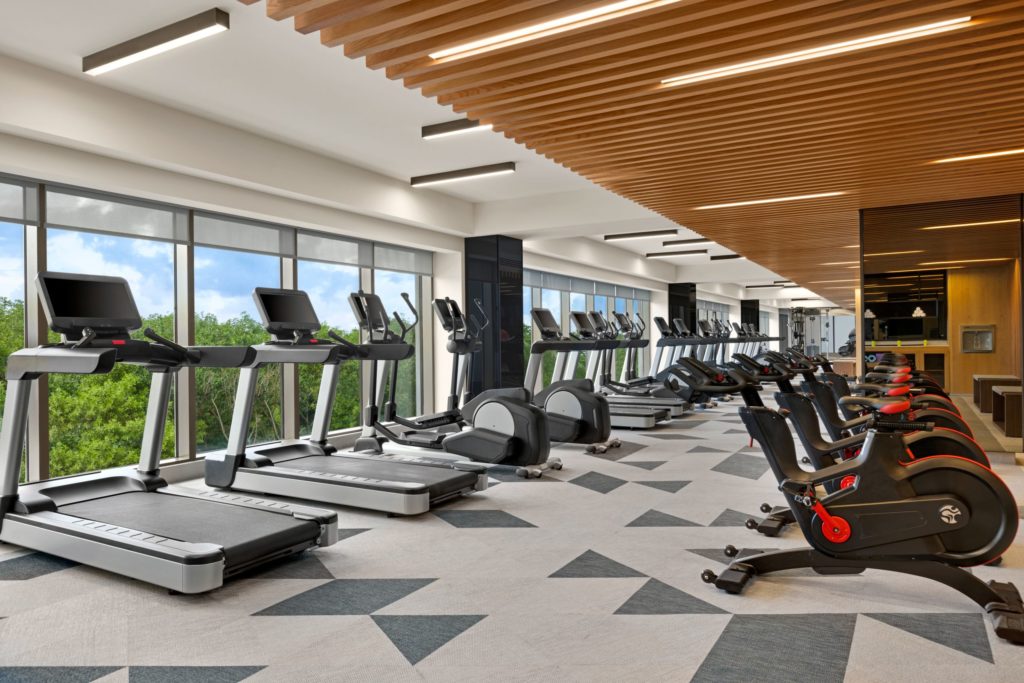 Image Source: Hilton
Hilton Cancun never sleeps. Prepare yourself for a night full of fun with music, dancing, food, and drinks. The night events include themed parties, multi-sensory testing, and other shows.
Kids aged 4-12 years can enjoy themselves at the kids club, surrounded by colors, art, and a learning environment.
You Could Also Host Your Wedding At Hilton Cancun
There can be no place better than Hilton Cancun for memorable ceremonies. You and your partner will have an experience that will stay with you forever.
Dance under the moonlight or lounge by the cozy private pool cabana. The hotel has one of the best wedding packages with all the luxuries and necessities. Plan the dream wedding and spend the days at their excellent ocean view suites.
Book Hilton Cancun Suites From I Like To Trvl
You probably have decided to visit Hilton Cancun All Inclusive by overviewing all the above details. Visit iLikeToTrvl to learn more about the packages, tours, insurance, flights, etc. Or you can explore new destinations anywhere in the world. Visit the website today to book your dream vacation.