Orlando is a popular global tourist attraction, as evident by the many tourists visiting the city. Fortunately, we have short-listed the best hotels in Orlando near Disney World.
Home to a dozen theme parks and other entertainment options, Orlando attracted 59,000 million people in 2021.
The city is world-famous for hosting Universal and Disneyland. The colorful theme park is the center of attraction for people visiting Orlando. Guests coming to Disney world can enjoy various attractions, including magic shows, resorts, dining, shopping, and much more.
There is no age limit to enjoy the wonders and magic of Disney. So, start planning today your dream vacation in Orlando.
4 Top Hotels In Orlando Near Disney World
You can choose from the following hotel according to your requirements:
1. Hyatt Regency Grand Cypress Resort
Hyatt Regency Grand Cypress Resort is an award-winning hotel in Orlando with an average of 9.1 and four-star ratings. It is an ideal location for families to enjoy their vacation. The hotel is near Disney World and offers a complimentary shuttle service to Disney World and Universal Orlando Resort.
The hotel rooms and suites are equipped with luxurious and comfortable furniture, LED, spacious closets, and exciting views. Your kids can enjoy the lagoon-style pool while you can enjoy mouth-watering food from one of the three on-site restaurants.
They offer standard hotel services like free Wi-Fi, laundry, a finesses center, and a full-service spa. In addition, they have adopted the latest technologies that enable guests to charge their electric vehicles.
Good news for pet-friendly people, Hyatt Regency Grand Cypress has a pet-friendly policy. Bring your furry little friends to the hotel!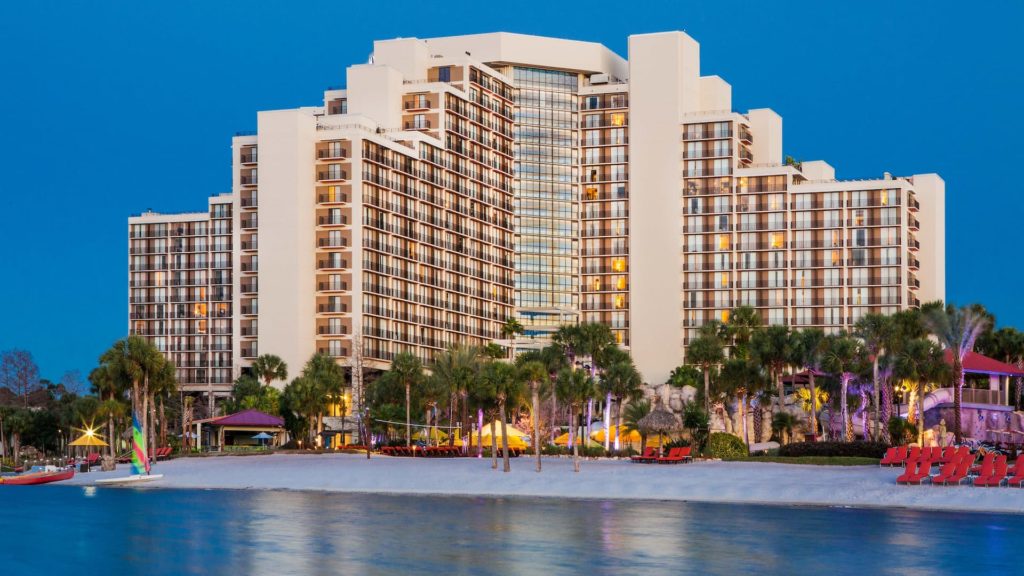 Image Source: World Of Hyatt
2. The Grove Resort & Water Park Orlando
The Grove Resort & Water Park Orlando has an average of 8.6 reviews and a four-star rating. The hotel is located only six miles from Disney World theme park and offers transportation services from the hotel to theme parks.
It doesn't matter if you are planning a solo trip with family or friends. The hotel can provide accommodations and a collection of fun events for any occasion and group of people. Business people will also find this hotel attractive, as they provide luxuries, comfort, and standard business necessities. It has on-site catering, audio-visual support, and flexible meeting spaces.
Grove Resort & Water Park is located beside lake Austin. The room provides beautiful views of lake Austin with spring pools, a bar, and a grill. Grove Resort offers a fitness center, Wi-Fi, and other standard amenities like every luxury hotel.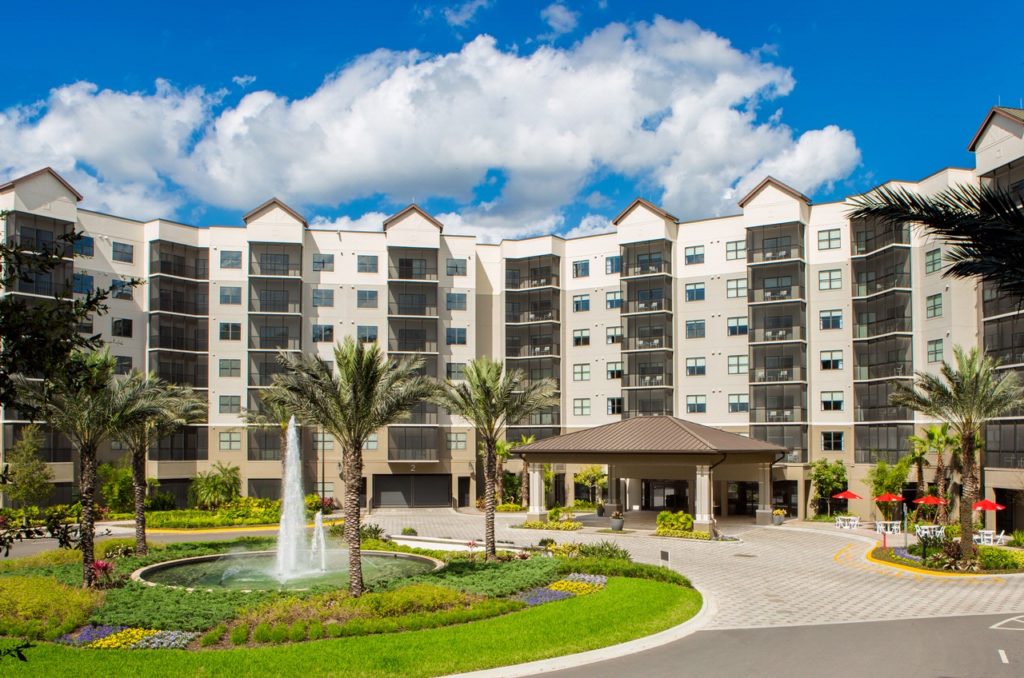 Image Source: The Grove Resort & Water Park
3. Holiday Inn Orlando – Disney Springs Area
Holiday Inn Orlando is just steps away from Disney park. The hotel has an average four-star and an average review rating of 8.6. The best thing about Holiday Inn Orlando is that every guest can access the Walt Disney theme park. With Holiday Inn Orlando, you can enjoy 30 minutes early entry benefit to the theme park.
They have rooms with rich Earthy tones and boast contemporary décor. You also get a work desk, high-speed internet, a custom dresser, and a 49 or 55-inch flat panel HDTV. The hotel has one of the best dining options and experiences. Eat at the Palm Breezes Restaurant and Lounge 7 days a week. Enjoy the food at the restaurant or take it with you to devour it anywhere in the hotel.
Kids under 11 can eat free per adult by ordering from the menu, while kids under 18 can stay free in their parent's room.
Image Source: Holiday Inn
4. Hyatt Regency Orlando International Airport Hotel
The Hyatt Regency Orlando International Airport Hotel is between terminals A and B. It has four-star ratings and a 9.0 average review rating. The hotel has impressive views from its rooms and suites. Located at the airport, enjoy the never-ending interesting views of airport runaway.
The hotel is just two minutes from theme parks, making it an ideal place for people visiting Orlando. The hotel offers similar services to its counterpart, Hyatt Regency Grand Cypress Resort.
You can have free Wi-Fi, a fitness center, bring your pets, use business facilities, and electric-vehicle charging. Hyatt hotels are well known for their world-class services and luxuries.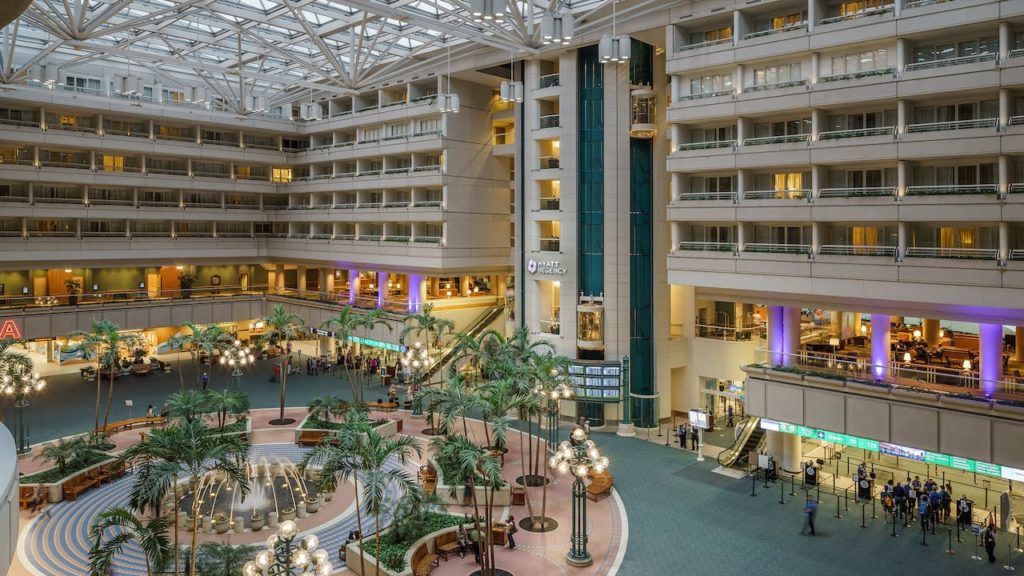 Image Source: Hyatt
Plan Your Dream Vacation With iLikeToTrvl
Who doesn't want to visit Orlando's Universal and Disney theme parks? But many people are confused when booking a vacation where they can take care of hotels, flights, packages (flight + hotel) or tourist attractions all in one place. iLikeToTrvl is the answer to all your traveling solutions. Visit the website to plan your dream vacation anywhere in the world. Plan things ahead of your trip with us!