Perhaps no area in Los Angeles, with its palm-lined avenues and mornings covered in a marine layer, is more representative of the Southern California way of life. Because of how far away from the city center it is. It is particularly remarkable and serves as a true refuge for both inhabitants and visitors. All of the lodging options are within walking distance of the ocean. Whether they are typical coastal retreats or trendy bohemian hotels. Here are some of our top picks for the hotels in Santa Monica California.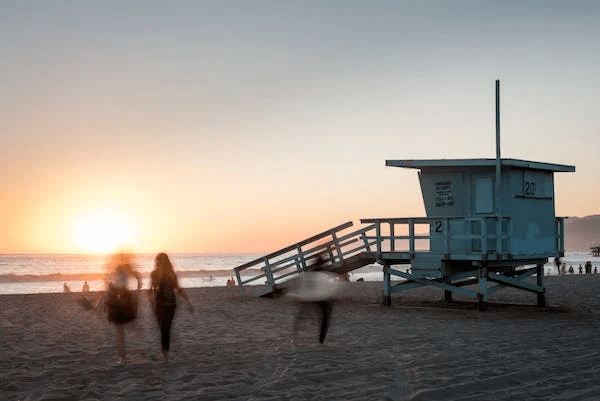 With 38 rooms and a lush, tree-lined courtyard with a trickling fountain. This former manor built in the Moorish style of the 1920s is now a hotel. Its Grand Studio Residences feature fully functional kitchens and the pos-and-beam ceilings that are so typical of Los Angeles' Mediterranean architecture. Ask for a front-facing room with views of the immaculate garden for a true escape. And stop by the quaint restaurant with its vibrant tiles and exquisite old wood bar for comfort food staples like burgers and club sandwiches.
The tranquil sea blue and white color scheme of the hotel transports the water within, putting you in the mood for a trip. If you choose to eat in, Sugar Palm serves Pan-American cuisine and traditional cocktails, but the outside space is where the real action is. It features two pools that are flanked by colorfully furnished private cabanas and a wacky, geometric graphic art wall that is perfect for Instagram. For a genuine summer experience, reserve the surf-and-stay package. Which includes a beach butler, boards, wet suits, and a gourmet lunch.
From San Francisco to Austin to Downtown Los Angeles, the lifestyle-focused boutique brand Proper has been growing. However, their Santa Monica hotel is only a few blocks from the beach. Nothing could be more California cool than the Kelly Wearstler design. Which is complemented by mismatched wallpapers and quirky objects from around the world. Ayurvedic resort Surya Spa, a favorite of celebrities like Gwyneth Paltrow, attracts both tourists and locals with its distinctive fusion of East-meets-West treatments. For the ultimate Westside experience, indulge in a four-hand massage before heading to the rooftop for a sundowner.
With its proximity to the pier and famous Old Muscle Beach. Shutters is at an ideal location for your Santa Monica vacation. Hardwood floors, hand-woven Tibetan rugs, and shuttered doors that stare out onto the white dunes below complete the contemporary residential-style rooms. The building, created by Michael S. Smith, has a tranquil spa and a pool with views of the Pacific. It is similar to a Cape Cod dream home.
This recently refurbished condominium is located inside the iconic Waldorf. The landmark that first opened in 1915 and once served as a home to A-list celebrities like Charlie Chaplin. For whom the opulent penthouse suite is named. The large noise-cancelling windows and other modern improvements are a huge advantage. Especially given the hotel's prime location directly above the Venice Boardwalk. Enjoy a comfortable king-size bed, sailboats passing by outside the window. And nighttime stargazing through the vintage-style standing telescope in the aforementioned Charlie Chaplin suite.
A stunning, enormous Moreton Bay fig tree that predates the 100-year-old property may be found after passing through grand gates and a path decorated with cobblestones. The ground floor's recently restored amenities include a light-filled lobby bar designed with midcentury modern furniture and brassy regency accents, as well as Soko, an eight-seat sushi bar in the Tokyo style. One of the better happy hours on the Westside can be found at Fig, which has a poolside location. Alternatively, if you want a more lively. Young atmosphere, go to the Bungalow for cocktails and dancing before returning to your accommodation. Although the Ocean tower offers more conventional rooms. We advise splurging on one of the 31 residential-style bungalows located in the Miramar Gardens' flower-filled grounds.
Hotel Casa del Mar
Two Santa Monica beach landmarks—the other being sister property Shutters on the Beach—are structures designed in the Italian Renaissance Revival style. With its rattan ceiling fans, wicker furnishings, and loads of flora, the spacious lobby is a big one. The Palm Terrace Rooms offer private patios with lounge chairs and look out over a tranquil inner courtyard. The rooms have a rustic and residential feel to them. At the Terrazza Lounge, where you'll have 180-degree views of the ocean, choose sunset cocktails.
Best Value Hotels in Santa Monica California
The Sea Shore Motel, a mile south of the Santa Monica Pier, provides the finest pricing without compromising a comfortable stay. The Sea Shore Motel, a family-run business since 1972, offers rooms with contemporary furnishings and inviting design that provide for a nice night's sleep after a day of experiencing the neighborhood's attractions.
It is a low-cost motel that is well-liked by families and budget visitors alike because Santa Monica State Beach is just a short stroll or bike ride from the front door.
This budget motel, which is close to Santa Monica College, is well known for its cozy rooms and welcoming employees. Some of Santa Monica's most well-known sights, such as the Santa Monica Pier and 3rd Street Promenade, are only seven streets away. The Santa Monica Hotel's affordable nightly rate allows visitors to allocate more of their travel budget to other activities. This family-friendly motel is well-liked due to the price and location, and it sometimes sells out months in advance.
Plan Your Dream Vacation With Us
iLikeToTrvl is the answer to all your traveling solutions. Book any vacation – like hotels, flights, packages (flight + hotel) or tourist attractions all in one place.
Visit the website to plan your dream vacation anywhere in the world!