If you're looking for hotels in Orlando near Disney World, there are numerous themed resorts, family-friendly retreats, and luxury hotels to choose from. There are so many that you might have trouble picking the best one. So we've compiled a list of the 5 best hotels near Disney World to assist you in planning your ideal vacation!
The park first opened its doors in 1971 and has since expanded to include four major parks: Magic Kingdom, Animal Kingdom, Epcot, and Hollywood Studios. Each park is distinct and offers so much that you could easily spend days (or even weeks) exploring each one!
Disney World has something for everyone, with so many adrenaline-pumping rides, themed bars and restaurants, and unique outdoor attractions. A trip to Disney World would not be complete without drinking and dining around the world at Epcot, spotting zebras and giraffes on a walking safari at Animal Kingdom, riding the iconic Splash, Space, Thunder, and Forbidden mountains, and marveling at the nightly fireworks show!
If that isn't enough, you can also go yachting or kayaking on the beautiful Seven Seas Lagoon, sip tropical cocktails at the iconic Sam's Grog Grotto, or shop on the Disney Boardwalk. Disney World is unquestionably one of the best things to do in Florida!
If you're planning a trip to Orlando, a stop at Disney World is almost certainly on your itinerary. The world-famous theme park is located 20 minutes outside of downtown Orlando and spans 47 square miles in the picturesque Bay Lake and Lake Buena Vista area of central Florida. There's a reason why Disney World is known as "The Most Magical Place on Earth!" with so many unique things to see, do, and eat.
5 Best Hotels In Orlando Near Disney World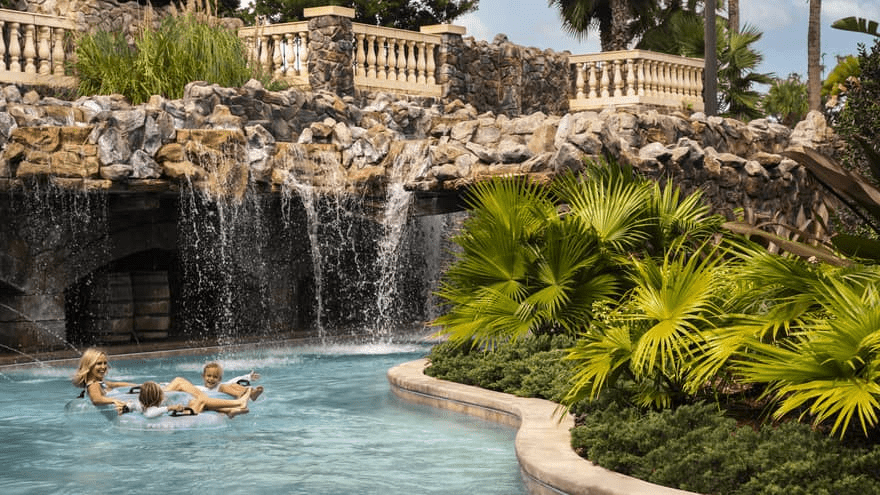 Source: https://www.fourseasons.com
The Four Seasons, located inside Disney World in the exclusive Golden Oak neighborhood, is the ideal choice for those looking to live in luxury during their Orlando vacation. It is without a doubt one of the best hotels close to Disney World. Expect excellent service, luxurious rooms and suites, and a slew of cool extras!
Although less formal in such a leisure-focused setting, the seamless Four Seasons service ethic is still very much present. Everywhere, there is meticulousness, and it is almost telepathically possible to anticipate needs and fulfill them. Pitchers of iced water, towels, lounger pillows, and sunblock are all provided by the professional poolside staff.
Large, airy standard rooms come with large balconies, a Nespresso coffee maker, a walk-in closet, a magnificent marble bathroom with a TV built into the mirror, and a tablet that can be used to order room service and serve as an alarm clock, radio, iReader, and radio. The "do not disturb" indicator is activated by a stylish bedside button.
Source: https://www.hotels.com
Disney's Animal Kingdom Lodge is a must-stay for animal lovers. Animal Kingdom is the world's largest theme park, spanning 580 acres and including a spectacular wildlife reserve and four savannas. In addition, over 200 animals, including giraffes, zebras, and elephants, roam the grounds of this one-of-a-kind resort!
Make yourself at home in one of the 972 DVD-equipped guestrooms. The bedrooms have their own patios or balconies. You may stay connected with free wireless Internet access, and you can watch cable programming. Hair dryers and bathrobes are available in the private bathrooms, which combine a shower and a tub.
Enjoy massages at the full-service spa while you unwind. The recreational facilities, which include 2 outdoor swimming pools, a waterslide, and a fitness center, will be appreciated by you. The resort also offers a game area with an arcade, babysitting, and other extras for a fee. You can board the free shuttle if you want to spend the day at a neighboring theme park.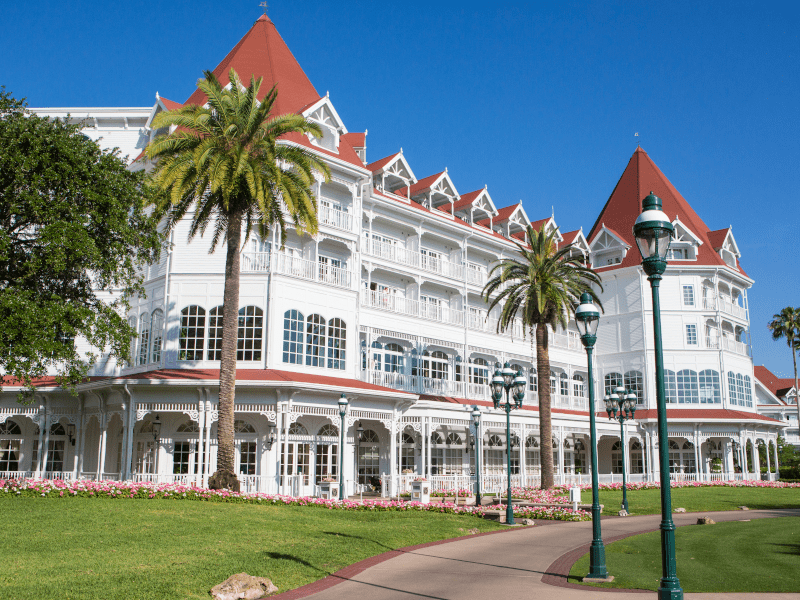 Source: https://www.wdw-magazine.com
When it comes to Disney World's numerous Disney-owned resorts, the Grand Floridian Resort & Spa is arguably the best of the bunch. The hotel was inspired by San Diego's Victorian-style Hotel Del Coronado, so expect a perfect blend of antique furnishings and modern touches around every corner.
The lavish, five-story Disney's Grand Floridian Resort & Spa is designed to resemble a Victorian home. Armchairs with wingbacks and antiques are arranged in the lobby's high atrium. Meanwhile, the bedrooms have golden textiles and studded headboards.
At this opulent Disney Resort hotel, Victorian grandeur coexists with contemporary sophistication. Relax outside while taking advantage of a wonderful massage and viewing nighttime fireworks over Cinderella Castle. This classic Victorian masterpiece, which is just one stop from Magic Kingdom park on the free Resort Monorail, harkens back to Palm Beach's heyday.
Source: https://www.hiltonbonnetcreek.com
An exquisite hotel with unique design elements. The foyer, for example, tells the tale of the Bonnet Sisters through a large pattern that extends into the Myth bar, which serves themed cocktails. It would be easy for the resort, which has 1,001 rooms, to feel enormous; yet, the public areas are crowded but cozy, and there is plenty of room to move around.
With Disney's Extra Magic Hours program, visitors can enter a certain park earlier each day or stay two more hours beyond the park's official closing time. A golf course and free-form pool with a lazy river, water slide, hot tubs, and cabanas are visible from the resort.
Although it may not appear so, the Hilton Orlando Bonnet Creek is an official Disney resort. If you stay at this opulent hotel, you'll have access to a slew of Disney-related benefits. Plus, you'll be on a tranquil nature reserve within the park's boundaries, so the location can't be beat!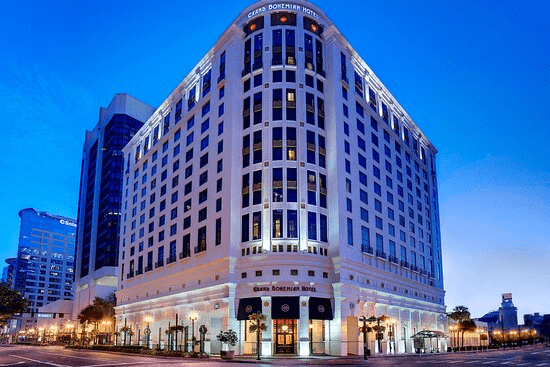 Source: https://www.tripadvisor.com
The Dr. Phillips Center for the Performing Arts, the Amway Center, and the Orange County Regional History Center are all within walking distance of the hotel, which is located in the heart of the city. It is within two blocks from the Church Street train station and is on both the major Lynx bus service to various locations as well as the free downtown LYMMO bus route. It is still conveniently located for I-4, the main highway, and is 13 miles (21 kilometers) from Orlando International Airport and 30 minutes from Walt Disney World.
If you want to stay near Disney World but also in the heart of Orlando, the Grand Bohemian Hotel is one of the coolest hotels near Disney World. You can walk to some of the best bars, restaurants, and nightlife venues in town, and Disney World is only a 20-minute drive away.
With Our Help, Plan the Dream Vacation
All of your travel-related problems have an answer with iLikeToTravel. Book all aspects of your trip in one location, including hotels, flights, packages (flight + hotel), travel insurance or tourist attractions.
To organize your ideal trip anywhere in the world, go to the website!