Whether you're in town for business or to see all the best Chicago attractions, these hotels near airport Chicago are ideal. They may not be the most luxurious suites or the best hotels in Chicago, but they do provide easy access to the airport and peace of mind for stressed-out travelers. Many hotels near O'Hare offer complimentary shuttles, on-site restaurants, modern gyms, and even some luxury amenities. And if you're looking for something a little more unique, why not look into some of the more unusual Chicago homes?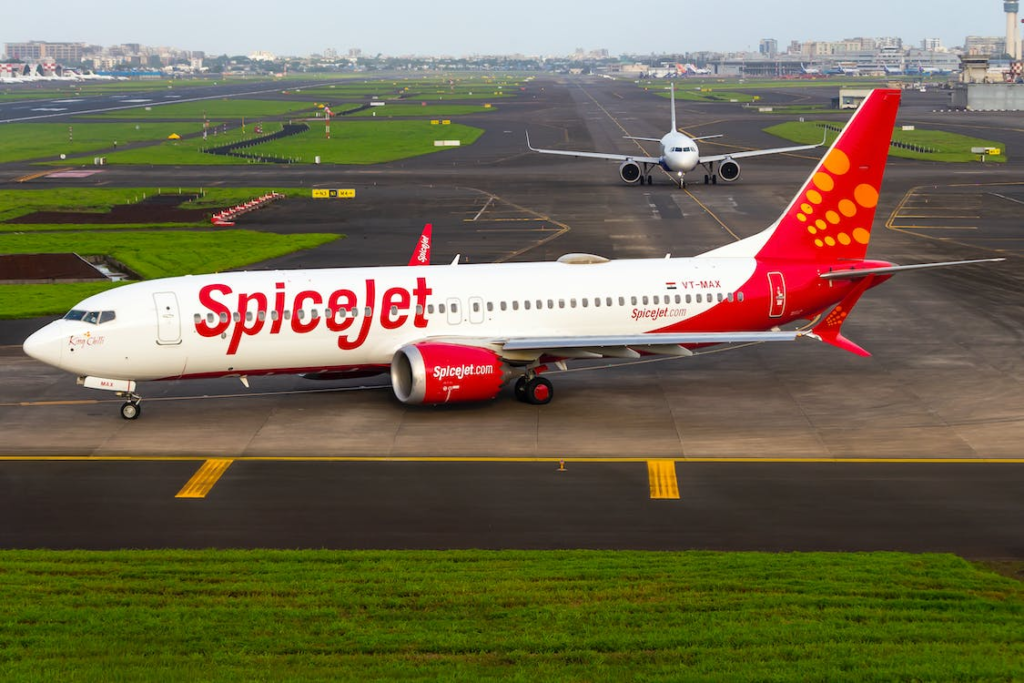 Hotels near O'Hare International Airport in Chicago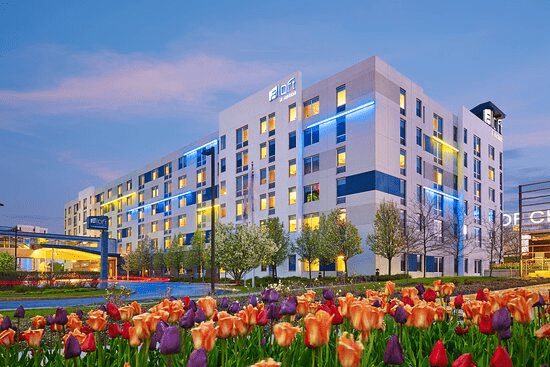 Source: Tripadvisor
It is more contemporary than the neighborhood's conventional hotels, as is typical of Aloft Hotel establishments. The Donald E. Stephens Convention Center is nearby and O'Hare International Airport is only a short drive away. A 24-hour business center and a bar/lounge are available on site for individuals who must work continuously. Modern elements are included throughout the room décor, which matches the hotel's aesthetic. There are large showers with rainfall showerheads in each of the en suite bathrooms. If a break is required, visit the heated indoor pool or the always-open fitness center. The on-site restaurant offers guests a continental breakfast and lunch options from the menu or à la carte.
Bright colors and unique design elements make this modern hotel stand out from the crowd. During your stay, you can play pool in the hotel bar, grab a snack from the 24-hour snack station, and swim in the pool. The hotel is also kid- and pet-friendly, so the entire family will have a good time.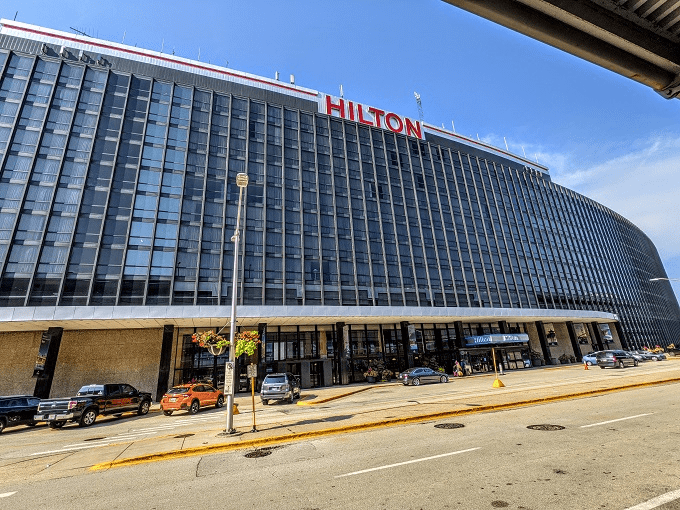 Source: https://nohomejustroam.com
Need a place to stay during a long layover? Book a room at this airport hotel. Underground walkways connect the Hilton to three different terminals, eliminating the need for a long shuttle ride after a long flight. All of the usual amenities, such as a fitness room and pool, may make you forget you're still in an airport.
The Hilton Hotel O'Hare is the only hotel situated on airport grounds, making it the most convenient for those who require or desire to be close to O'Hare International Airport. The distance between the terminal and the front door is about three minutes, making this the closest available overnight accommodation. The CTA Blue Line, which runs through downtown and stops at Rosemont and the Convention Center, is also close by. Its features include a full-service fitness club with an indoor pool, pet-friendly accommodations, and three on-site restaurants that cater to both guests and outsiders.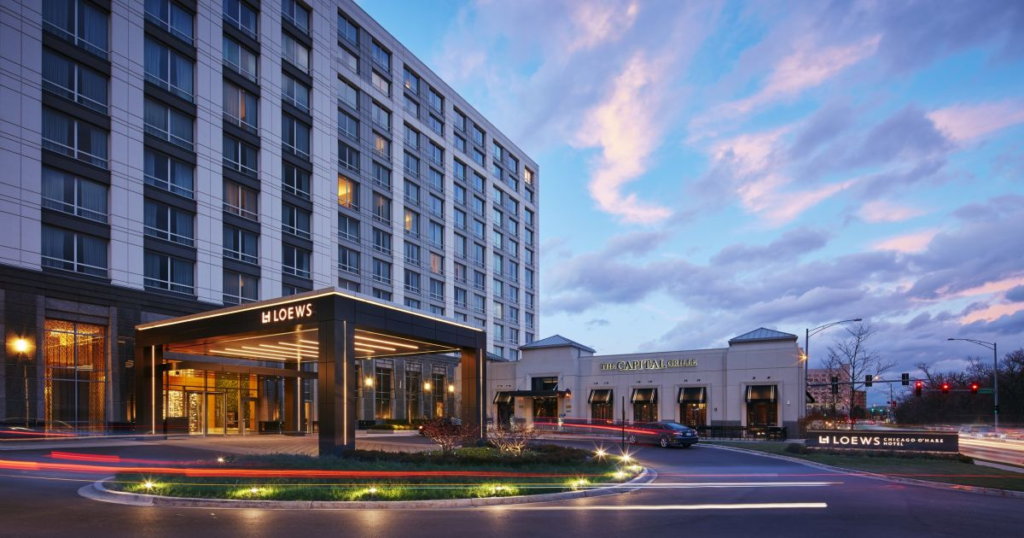 Source: https://www.loewshotels.com/
Loews The Chicago O'Hare is a hotel that welcomes business travelers and is close to the Allstate Arena, the Donald E. Stephens Convention Center, and the Rosemont Theatre. It is convenient that complimentary shuttle services include a round-trip bus to O'Hare International Airport and a local shuttle. Parking otherwise can be difficult. There is a fully-stocked fitness center there. Save some time to visit The Montrose Room, a cabaret-style performance space with live music and comedy acts in a cozy nightclub environment, which is situated just inside the hotel. The Art Museo, which hosts changing exhibitions of sculpture, canvas, and photography, is also located there.
If you're in town for an event at the nearby Donald E. Stephens Convention Center, this high-end hotel with 53,000 square feet of meeting space is worth a look. The special touches, such as fluffy cotton linens and flat-screen TVs, are matched by the excellent service. The staff will gladly assist you if you need to rent a room for a last-minute meeting, have your suit pressed, or hop on a free shuttle to the airport.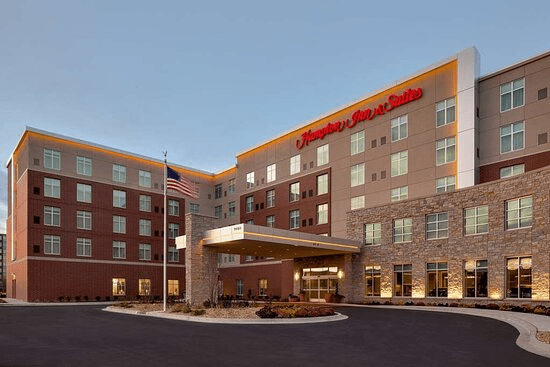 Source: https://www.tripadvisor.com
Numerous factors influence why guests choose Hampton Inn Chicago-O'Hare International Airport, but its proximity to the Blue Line station and popular sites is unquestionably one of them. Going there is also simple because the hotel is one of the ones close to Chicago O'Hare Airport. For those who have an early flight, the airport shuttle only takes around 5 minutes to get there.
This hotel offers plenty of goodies, which one would expect from a Hampton Inn. The high-speed Wi-Fi, parking your car in the private parking lot, swimming in the pool, and treadmill use are all complimentary at this location. Oh, and a complimentary breakfast is included with your stay.
Families and other large groups may want to book a suite at this hotel, which is only 2.5 miles from the airport. A large indoor pool and modern fitness center will keep the whole family entertained, and complimentary hot breakfast and a free airport shuttle make this property a steal.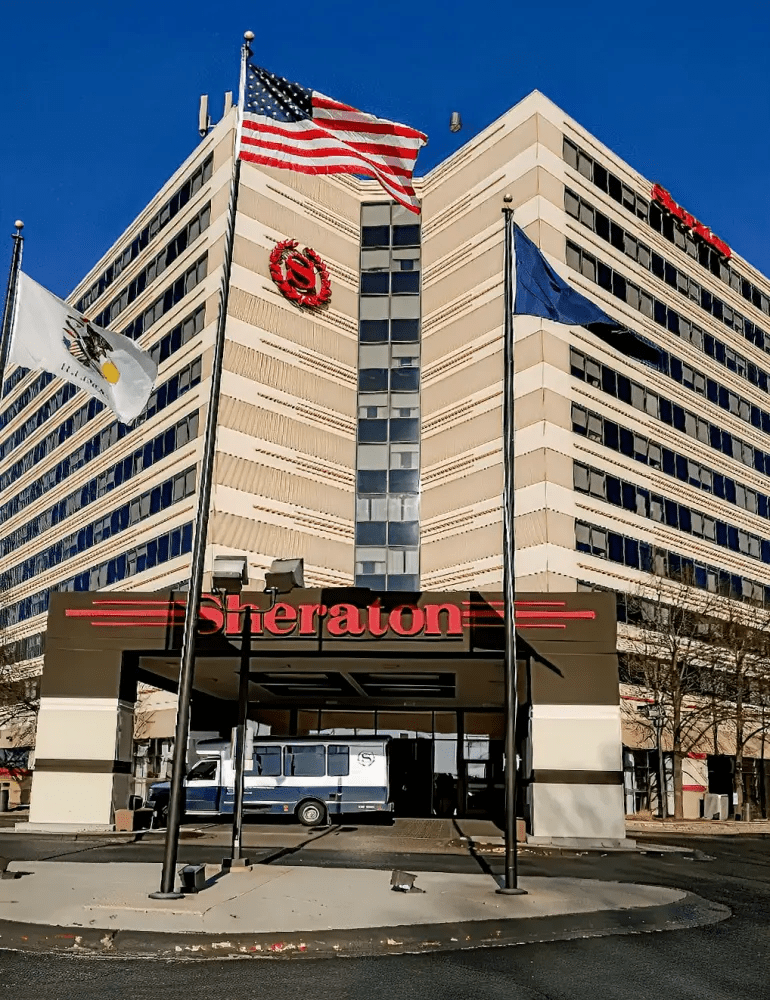 Source: https://www.dayuse.com
For travelers departing from O'Hare International Airport, the Sheraton Chicago O'Hare Airport Hotel is ideal. The hotel offers a ParkSleepFly package that includes parking (extra price), airport shuttle service from 4:00AM to 11:45PM on demand at the 20th and 50th of the hour, and a luxurious accommodation with a contemporary aesthetic. High-speed WiFi, fitness centers, a restaurant, and a bar are all available to guests. The Rivers Casino Des Plaines, a children's museum, recreational facilities, golf courses, and close-by eateries are just a few of the local attractions and leisure options.
With 296 suites, this massive Sheraton near O'Hare would be an excellent choice for last-minute accommodations. The upscale rooms with flat-screen TVs, turndown service, and sleek furnishings will appeal to both business and leisure travelers. Guests also have free access to a nearby health club if the on-site gym does not suffice.
Edward Hotel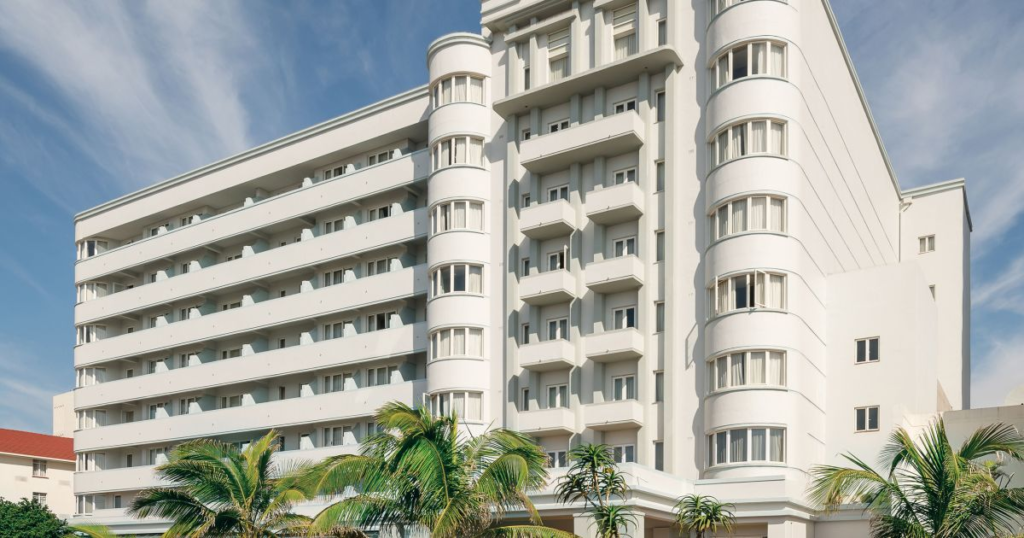 Source: https://www.southernsun.com
Allstate Arena and Rivers Casino are both within a 5-minute drive of the Edward Hotel Chicago in Rosemont, which is in the suburbs. The Donald E. Stephens Convention Center is 2.8 miles (4.5 km) away, while Rosemont Theatre is 3 miles (4.9 km) away from this spa hotel. The 274 air-conditioned rooms feature flat-screen televisions, allowing you to make yourself at home. You may stay connected with free wireless Internet access, and you can watch cable programming. Free amenities and hair dryers are provided in the private bathrooms, which combine a shower and a tub. Desks, coffee/tea machines, and phones with free local calls are all considered conveniences.
This one is for you, budget-conscious travelers. The Edward Hotel has all of the same amenities as its big-name competitors, including an indoor pool, fitness center, and complimentary breakfast buffet, but at a lower price point. The rooms and suites are comfortable, if a little dated.
The Rose Hotel Chicago O'Hare, Tapestry Collection by Hilton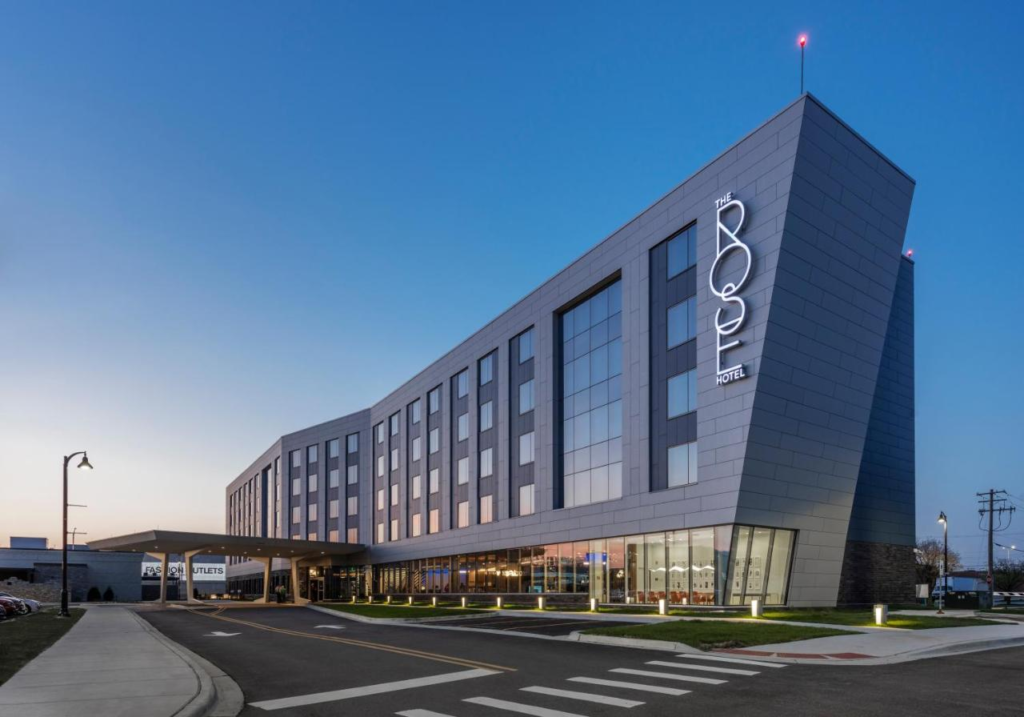 Source: https://www.priceline.com
This swish Hilton puts you in the lap of luxury right next to the airport, putting you in one of the most convenient locations possible. The hotel, a haven for fine art, offers a one-of-a-kind base just five minutes from O'Hare International and ten minutes from the Fashion Outlets of Chicago and the Donald E Stephens Convention Center – with a free shuttle covering a three-mile (4.8-kilometer) radius.
This hotel's accommodations are very roomy, contemporary, and incredibly clean. After a lengthy travel, we couldn't have wished for a finer location to unwind. Additionally, it has an air conditioner, a coffee maker, and a flat-screen TV. In addition, there is a comfortable sofa right next to the desk where you may continue your work while seeing the sights outside through the window. Some rooms, depending on the type, feature a private bathroom with a large bathtub.
Each morning, the on-site restaurant serves a continental breakfast. You can unwind on the sun patio or in the common area after the delectable supper. Additionally, a mini-market on the property has everything visitors may possibly need.
Why iLikeToTrvl, you ask?
There are countless locations to travel to. There are also a ton of hotels available for you to stay in. However, how would you choose a destination and lodging?
Let us handle that. We want to give you all the information you need on popular tourist destinations, towns, and hotels. For the greatest trip within your budget, be familiar with the surroundings, amenities, and tourist destinations. Visit our website right away to find the finest travel deals.