It's no secret that Phoenix and Las Vegas offer tons of fun activities and entertainment. You can have the time of your life in the casinos, music shows, and circus acts in these cities.
A road trip from Phoenix to Las Vegas should be a must adventure on your bucket with your friends. Don't worry; if you aren't the party type, there's still a lot to do. Enjoy the warm temperature, relaxing spas, and one of the many outstanding hotel resorts here.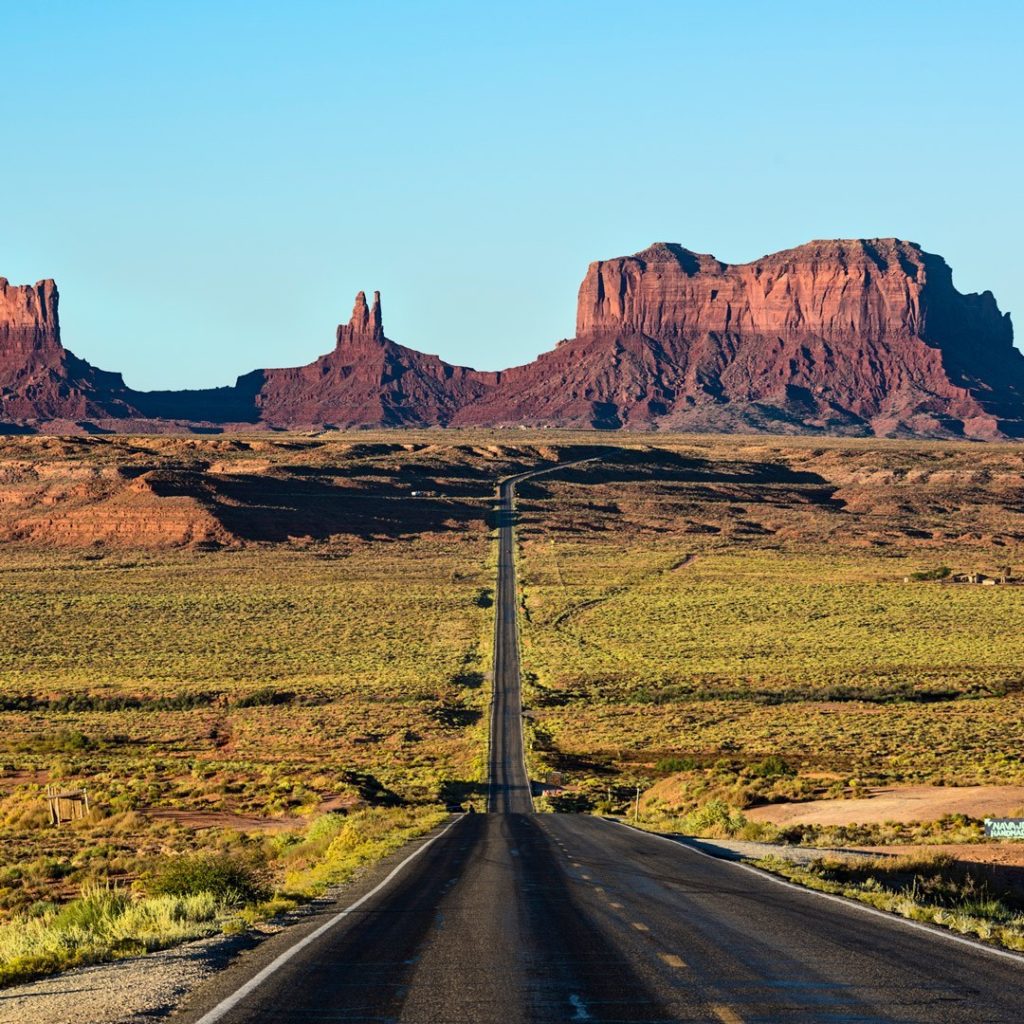 Image Source: Lesueur Car Company
How Long Is The Road Trip From Phoenix To Las Vegas Take?
It's a 300-mile journey. The quickest route usually takes 4 hours and 30 minutes. However, the stops and trip attractions will require some time and extent the journey hours.
This trip's purpose should be to enjoy the road experience and spots. Otherwise, cheap domestic flights can get you to Las Vegas in an hour. Las Vegas should be a separate trip, so prepare for it separately.
Consider driving through Sedona and Flagstaff first, enabling you to make a detour to the Grand Canyon and make it a 600-mile journey. This route should take around 6 hours and 30 minutes with uninterrupted driving. It'd be best to give the trip a week to make sure that you cover the best spots.
Best Stops On The Phoenix To Las Vegas Drive
The routes are rich with natural and man-made attractions. Remember to include the following spots in your itinerary:
1. Wickenburg Vulture Mine
The mine is located in the Sonoran Desert, 246 miles from Las Vegas. It is in the abandoned settlement of vulture city. The mine was once rich with gold and silver, and now the Vulture city offers clean air, team roping, and various outdoor adventures. Vulture mine is also a great place to learn about Arizona's history.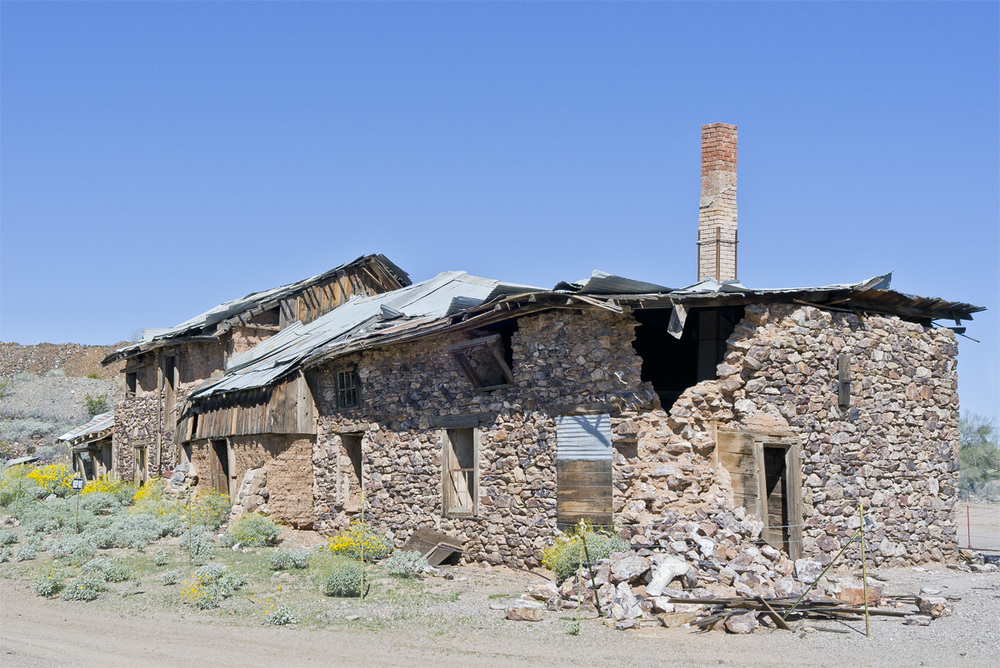 Image Source: Vulture City
2. Desert Caballeros Western Museum
Don't miss the Desert Caballeros Western Museum on your way to Vegas. The museum shows the rich culture and lifestyle of the American West.
The museum offers various education and entertainment program for visitors and tourists. They also provide a detailed overview of the overall lifestyle, history, landscape, and other myths about the great State of Arizona.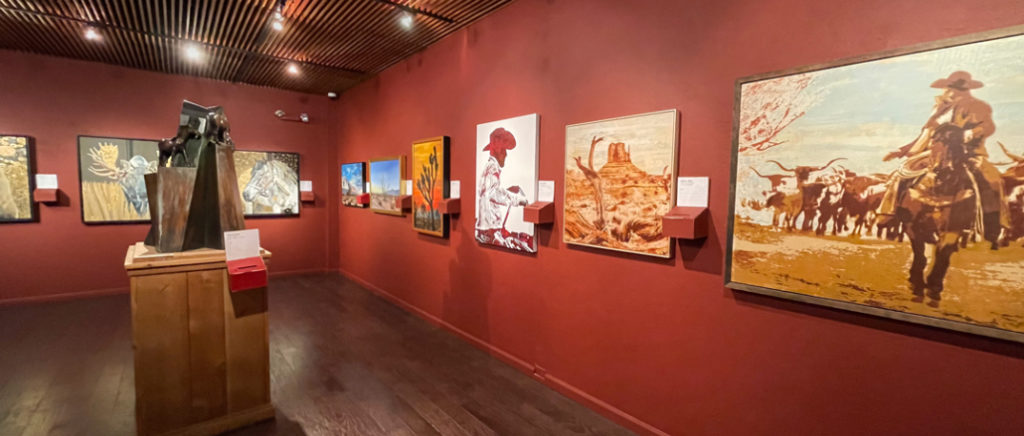 Image Source: Desert Caballeros Western Museum
Located 92 miles from Las Vegas, Santa Claus town in Arizona is a one-of-a-kind. It is an uninhabited desert place founded in 1937 by Talbots to attract buyers for real estate purchases in the desert location. The Santa Clause and Christmas theme town is now in ruins and gives a chilling vibe.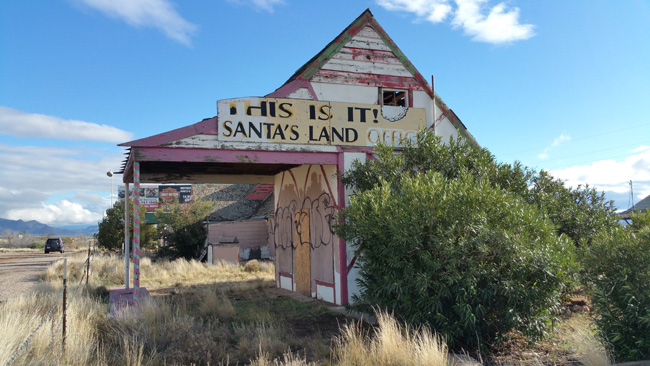 Image Source: Places That Were
4. Nothing, Arizona
There is a ghost town named "Nothing," which you can find on route 93 and 182 miles to Las Vegas. The town was built in 1977, but no one lives there. However, the signs there show a town population of four.
When you visit the town, there will be a big sign showing the town name "Nothing," which is quite a unique experience.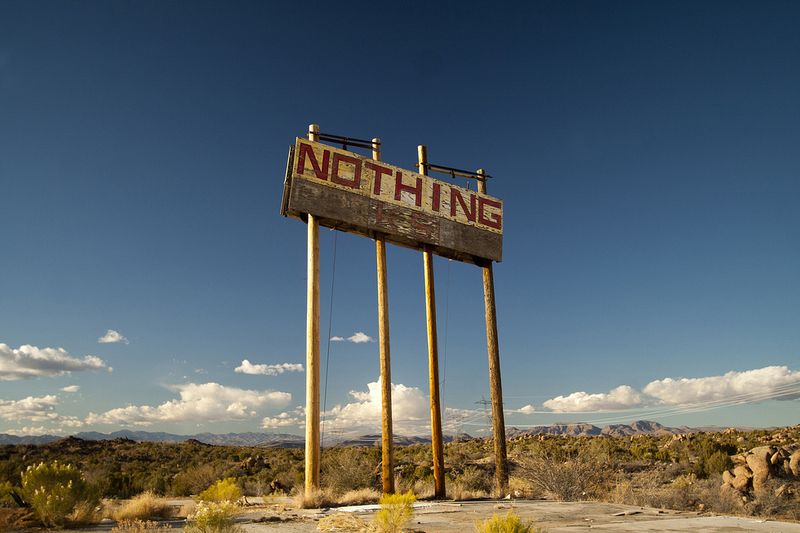 Image Source: Amusing Planet
5. Hoover Dam Lookout
Missing the Hoover Dam means missing the most exciting part of the road journey. It is a symbol of American pride, will, and determination. The dam is more than 700 feet high. It's a marvel of human engineering expertise and is open to the public daily from 05:00 am to 09:00 am. So plan the trip accordingly.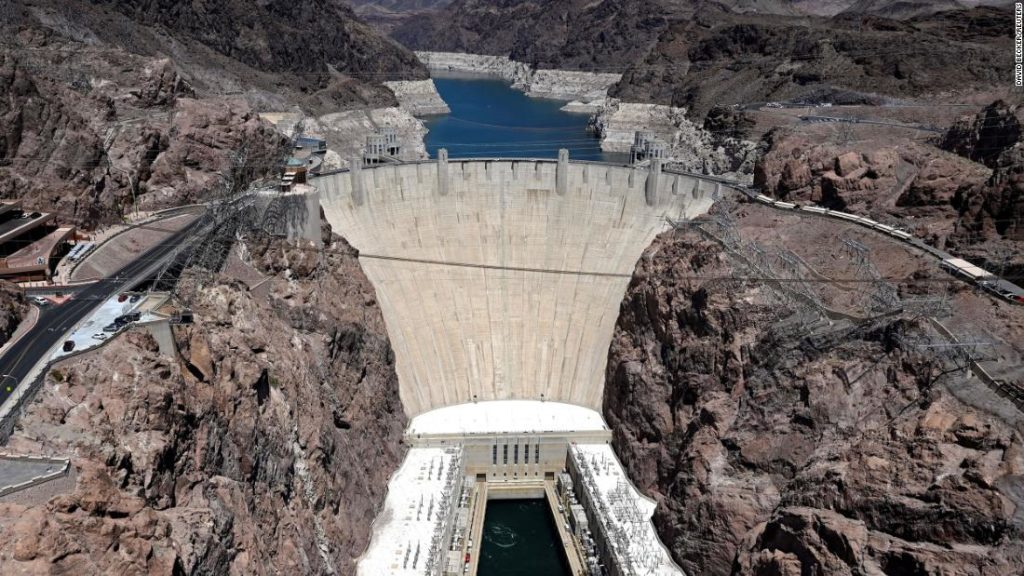 Image Source: CNN
Hotels To Stay During The Trip
After a tiring day of continuous driving spots, it's now time to find a lovely hotel to stay in. Our top picks include the following:
· La Quinta Inn & Suites by Wyndham Kingman
Located on routes 66 and 43, the La Quinta Inn & Suites gives visitors a break they need. The hotel has free Wi-Fi, an indoor pool, and a complimentary breakfast, making it an ideal relaxation spot before you continue your journey.
La Quinta Inn is just hours away from the Grand Canyon National Park, The Grand, and the Canyon Skywalk 70 miles away. You can also visit the Power House Visitor Center, Oatman Ghost House, and Kingman Rail Road Museum while staying at La Quinta Inn.
· Home2 Suites By Hilton Kingman
Home2 Suites are one mile away from Route 66 and only a day trip away from Grand Canyon, Lake Havasu, and Hoover Dam. It has all the amenities you need after a long desert drive. You can get free Wi-Fi, breakfast, and an outdoor pool.
Multiple local restaurants and food chains like Taco Bell and KFC are in the Home 2 Suites neighborhood. Moreover, the hotel is just 10.2 km from the airport if you are looking for air travel. You can also visit Kettelhut's Antiques in the neighborhood to buy antique gifts.
· Springhill Suites By Marriott
It is also on route 66 in the Kingman area, known for its rich history. Enjoy complimentary breakfast, an indoor pool, and a fitness center. Moreover, the hotel has a pet-friendly policy, so take your pets on the road trip.
The neighborhood around Springhill Suites has some attractive food options. It would be best to visit Mr. D'z Route 66 Diner restaurant for mouth-watering food. When done with the food, visit the historic Kingman Power House Museum, which is just 4 miles away from the hotel.
Plan Your Trip With iLikeToTrvl
Road trips are one of the best memories you can make with friends and family. When the final destination is Las Vegas, it becomes more exciting. Luckily we have prepared a guideline for the spots, hotels, and route from Phoenix to Las Vegas road trip. Visit iLikeToTrvl to book hotels and know more about your dream vacation.