Japan is known worldwide for its outstanding hospitality with a firmly embedded "Omotenashi" culture that ensures guests are treated with cordial respect.
However, the best hotel in Japan Tokyo – high-end, exquisite addresses spread across popular neighborhoods such as Roppongi, Shinjuku, and Nihonbashi – take it to another level.
Whether outposts of international brands, capsule hotels, quirky boutiques, or traditional ryokans, Tokyo provides everything you desire!
Read on to know more!
Best Areas With Hotels In Japan Tokyo
Tokyo has a range of good-to-know neighborhoods. However, the following three districts are the best to stay in during traveling, especially for first-timers.
Shinjuku Area
Many tourists consider Shinjuku the best area to stay and have fun. This neighborhood is a blend of traditional and ultra-modern. It has enticing alleys filled with shops, people, and restaurants that didn't change much throughout the years.
It's a perfect area to stay for first-timers or if you love having several options for shopping, food, entertainment, and hotels.
Nihonbashi Area
Located near the Tokyo Station, Nihonbashi is one of the historic neighborhoods in Tokyo to experience. From traditional food to posh stores and entertainment centers, it's a must-visit area that people should explore and experience when traveling to Tokyo.
Roppongi Area
Roppongi neighborhood can be a perfect fit if you're a night owl who loves action. Featuring Michelin-starred restaurants, luxury shopping spots, world-class hotels and art museums, and stunning nightlife, Roppongi provides Tokyo's most cosmopolitan yet condensed nightlife.
Which Is The Best Hotel In Japan Tokyo?
Formerly known as Edo, Tokyo is a city of beautiful, welcome contradictions: high-rise sparkling skyscrapers alongside tranquil, traditional-Zen-like gardens; ancient temples next to only-in-Japan technologies.
You can also find these fantastic contrasts in the best hotels in Tokyo, from historic ryokan to beloved brands. Listed below are the top four hotels in Japan Tokyo you must consider staying at during your trip:
Park Hyatt Tokyo
This Shinjuku hotel is a perfect oasis of calmness and space with various popular perennial features. The sky-high location, stretching between the 39 and 52nd floors, offers breathtaking views of urban sprawl.
The stunning 52nd-floor New York Bar featured in the 2003 romantic comedy-drama film "Lost in Translation" is a major attraction even if Scarlett Johansson and Bill Murray no longer linger there.
With its fantastic sweeping Mount Fuji and floor-to-ceiling city views, the 47th-floor swimming pool may even entice non-swimmers to go swimming.
Then there's Kozue – one of Park Hyatt's many food-and-beverage options – which serves delicately-prepared modern Japanese cuisine you can enjoy with a jaw-dropping view of city lights. Couples and families rated it 8.7.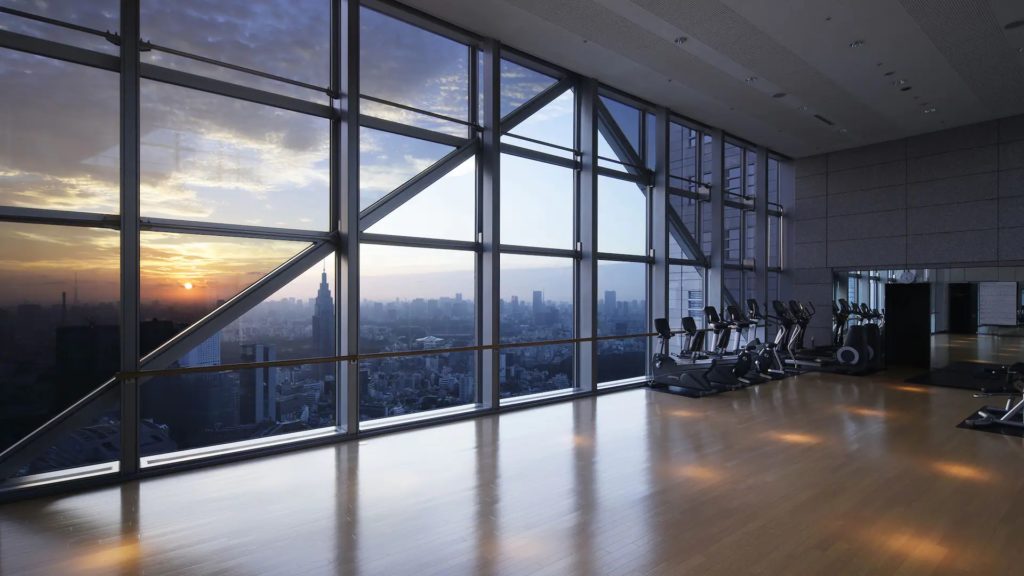 Image source: Park Hyatt
The Ritz-Carlton
If this is your first time traveling to Tokyo and you want the best hotel experience, look no further than Ritz-Carlton, Tokyo – it won't disappoint you!
Have you ever heard about 'aroma butlers'? You can effortlessly find one at this Tokyo hotel, generously reviving fatigued travelers using aromatherapy blends. Not just one, the hotel has two Michelin restaurants for a fine dining experience.
Nestled at the heart of the Roppongi neighborhood in Tokyo's tallest skyscraper, the hotel provides a clear view of the city, including Mount Fuji. Guests have rated the hotel 9.1.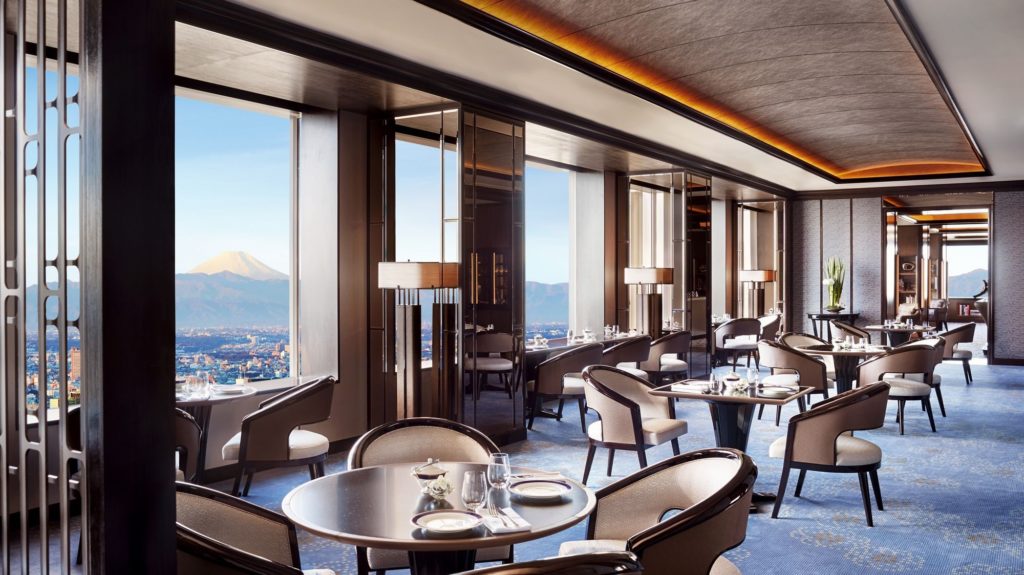 Image source: Ritz-Carlton
Mandarin Oriental Tokyo
Pictures don't do justice to this stunning Tokyo hotel. Located on the upper floors of Mitsui Tower, the hotel features spectacular views of Mount Fuji, Tokyo Skytree, and several in-hotel bars and restaurants. The 37th-floor overlooks a gigantic multi-story space.
On one side, you can see the city's eastern sprawl; on the other, a check-in desk framed by the western outlook floor-to-ceiling windows.
The Sushi Shin – a Michelin 3-star sushi restaurant – is one of the most atmospheric restaurants to dine in. It provides an eight-seated L-shaped counter (built from an ancient Cypress tree) that sits alongside floor-to-ceiling windows that frame Tokyo Skytree perfectly.
Dip your sushi while enjoying the city's beautiful scenery. You'll be surprised in more than one way. Families rated it 9.0.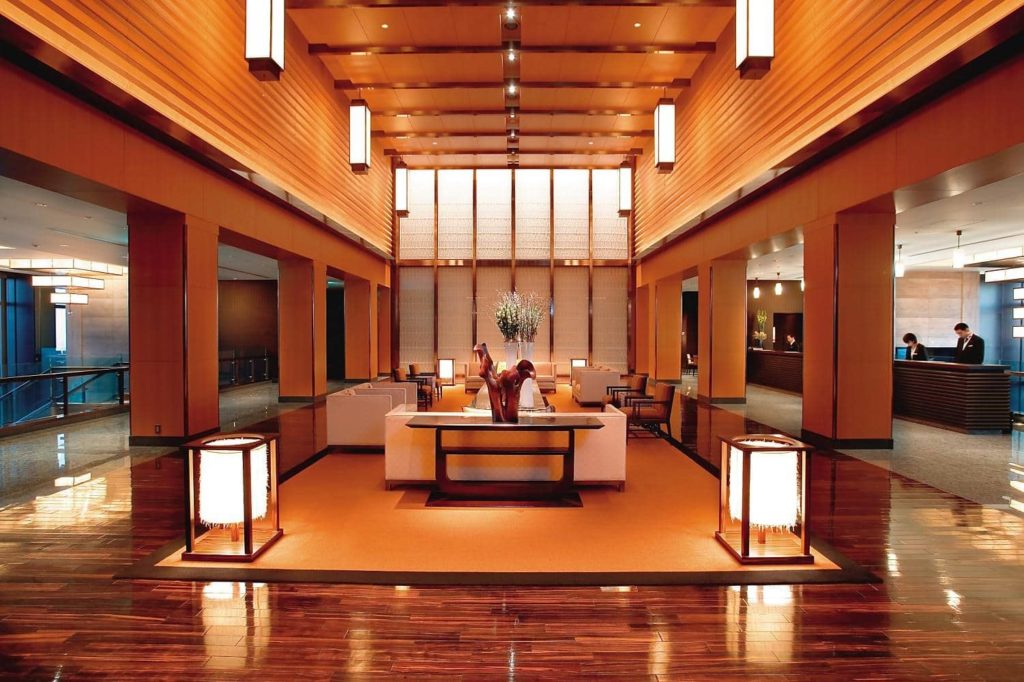 Image source: Mandarin Oriental Tokyo
Grand Hyatt Tokyo
Conveniently located within posh Roppongi Hills, a massive lively complex with various museums, luxury boutiques, and restaurants, the Grand Hyatt Tokyo maintains tranquility and calmness. It's a perfect luxury lifestyle hotel that won't destroy your bank like other hotels.
The hotel is a three-minute walk from Roppongi Station and offers smooth access to famous areas like Shibuya and Ginza, making it ideal for leisure and business trips.
Roam in Mohri Teien (Mohri Garden) to see cherry blossoms or enjoy the sparkling lights or the Christmas market in winter at walking distance. Guests across the world love it and rated it 8.8.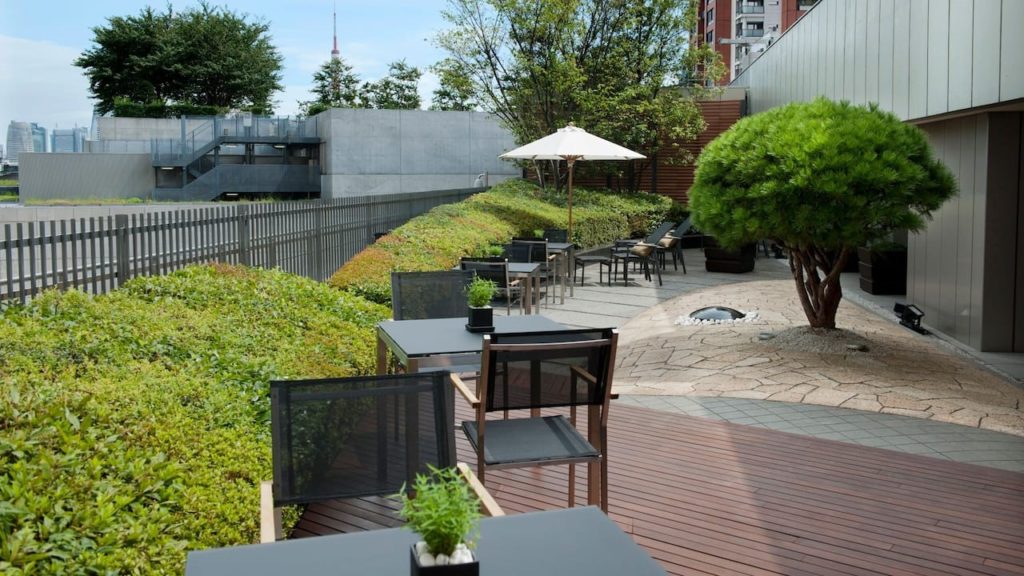 Image source: Grand Hyatt Tokyo
Book Your Dream Hotels In Japan Tokyo With I Like To Trvl
Want to make your travel convenient and smooth? Choose iLikeToTrvl! We know how time-consuming and challenging trip planning can be, especially if you plan to visit one of the most popular tourist destinations, such as Tokyo.
Whether you're looking for dream hotels or flights, we can help make your travel safe and comfortable. Contact us for a hassle-free business trip or a dream vacation to Tokyo or elsewhere!