When is the Best Time Of The Year To Visit New Zealand? The climate in New Zealand is very diverse, ranging from subtropical Northland to temperate Southland, with tall mountains running across the middle of both main islands. Winters are moderate and wet in the North Island and drier but frequently snowy in sections of the South Island. Summers are typically hot in the North Island and warm in the South. There will always be areas of New Zealand that are ideal for your trip, so read on for useful information on the weather, crowds, prices, and other factors.
Seasonal Planning for New Zealand Travel
It's generally reasonable to claim that the North Island is warmer and wetter than the South Island, despite the fact that there is considerable climatic variation in New Zealand from the north to the south and from the coast to inland mountain regions. Depending on altitude and other geographical variables, such as the presence of mountains isolating some portions of the country from particular weather patterns, there are exceptions to this rule.
The summer is New Zealand's busiest season. In part because many foreign visitors want to come to make the most of the country's warmer summers and in part because it is also the busiest time of year for domestic tourists. Most of December and January are off for schools and colleges. And many people take at least a week off work between Christmas and New Year's. Since many New Zealanders have summertime vacation destinations they frequent, campsites and interisland ferries frequently fill up well in advance.
Winters can be chilly, particularly in the south and northern regions with higher elevations. Wintertime brings a lot of rain to the North Island, therefore it is best to avoid it. The South Island is particularly appealing to skiers and snowboarders since it receives less rain but more snow.
Summer in New Zealand (December to February)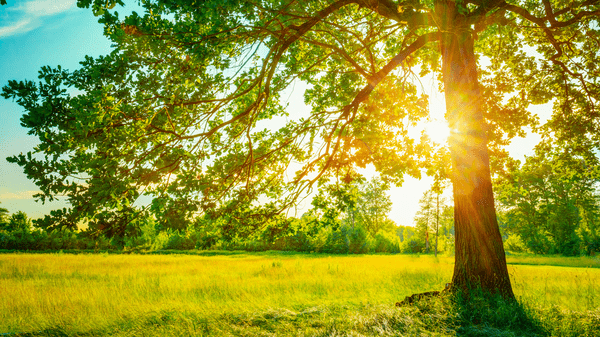 Image Source: https://www.timeanddate.com/
In New Zealand, summer is typically the hottest and driest season. Highs of at least 70 degrees Fahrenheit are considered to be considered high. Compared to the south, the north island is often warmer and more humid. The South Island's top, which includes the regions around Nelson, Golden Bay, and the Marlborough Sounds, is the main exception to this rule, with summers there frequently being hotter and sunnier than in other parts of the North Island.
The southern and western South Island regions in December are also notable exceptions to the "summer is drier" norm because these regions receive a significant amount of rain during this month. Additionally, ex-tropical cyclones from the Pacific Islands can strike later in the summer; although they don't occur every year, when they do, prepare for heavy rain and gusts for a few days. However, droughts can occur in some areas of the country during the summer, and it's not unusual to experience a period of time without any appreciable rainfall during the summer.
In New Zealand, summer is the best time to visit the beach because the water gets warmer as the months pass. Beautiful beaches may be found all around the country due to its extensive coastline. However, the beaches in the Northland, Coromandel, and Nelson/Tasman regions are some of the greatest in the nation. Apart from the peak period of New Zealand school vacations, expect to find extensive stretches of white/gold sand or attractive tiny bays, clean water, Surf Lifesaving patrols on popular beaches and peak periods, and not too many other people. The beaches on the east coast of the entire nation are generally preferable for swimming. Sands are frequently dark, currents can be hazardous, and the west coast is more rocky and exposed.
Events in Summer
Christmas and New Year, nationwide. The week in between the two holidays is frequently off of work in New Zealand. Christmas is typically a time for families, so many attractions close down—at least for the day. On December 31, large gatherings can be found in both small villages and huge cities for New Year's Eve.
Christchurch World Buskers Festival. This festival in late January features entertaining activities over a few weeks that feature local and foreign street performers, musicians, magicians, jugglers, and more.
Nationwide Waitangi Day. On February 6, a national holiday, it will be commemorated that day in 1840, when Maori leaders signed a treaty with the British Crown. It is an important day in New Zealand's history, and depending on the current administration, it may be a moment for protest and the venting of resentments. On this day, which is a national holiday, festivities in Waitangi, in Northland's Bay of Islands, are particularly fascinating.
The Napier Art Deco Festival. Experience the 1930s while celebrating Napier's Art Deco history. The city was extensively rebuilt in the Art Deco style after it was completely destroyed by an earthquake in February 1931.
Fall in New Zealand (March to May)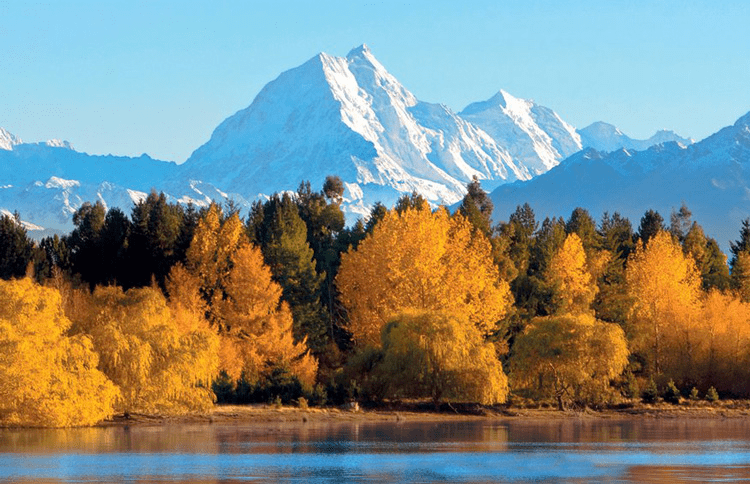 Image Source: https://www.firstlighttravel.com/
Fall officially starts in March, although the early part of the season can be extremely hot in the north or chilly in the south depending on location. The north experiences highs in the 60s (Fahrenheit) whereas the south experiences mid-50s. Even though the air temperature is a little bit cooler in the early fall, the sea can still be a nice place to swim because it is typically warmer than in the summer. Higher elevations and lower latitudes experience leaf change, but because there are fewer deciduous trees on the North Island, there isn't much of a traditional "fall" season there.
Conditions and temperatures later in the season might be chilly, damp, and getting darker (the sun sets before 5 pm in more southern parts of the country in late autumn and winter).
As many foreign visitors arrive earlier in the season but start to decline by May, autumn is considered to be New Zealand's shoulder season. Locals don't travel as frequently at this time, with the exception of the Easter holidays (in March or April), and if they do, they're more likely to go to the Pacific Islands or Australia rather than other regions of New Zealand.
Events in Fall
Easter, nationwide. Schools and many places of employment take a break for at least the Easter long weekend (in either March or April), occasionally for a week or more, even though not everyone commemorates this Christian festival from a religious perspective. At this time, domestic travel is on the rise.
Wildfoods Festival, Hokitika. You can sample odd, bizarre, and revolting food during this March event in the little West Coast (South Island) town, like as deep-fried insects and bull testicles. Additionally, there is a wide selection of good wine and more common cuisine. For this festival, people travel from all over the South Island, so make reservations for lodging in advance.
National Jazz Festival, Tauranga. This jazz festival began in April 1962, making it the longest-running jazz festival in the Southern Hemisphere.
Auckland Comedy Festival. In May, musical performances take place all over Auckland, in settings ranging from huge theaters to tiny basements.
Winter in New Zealand (June to August)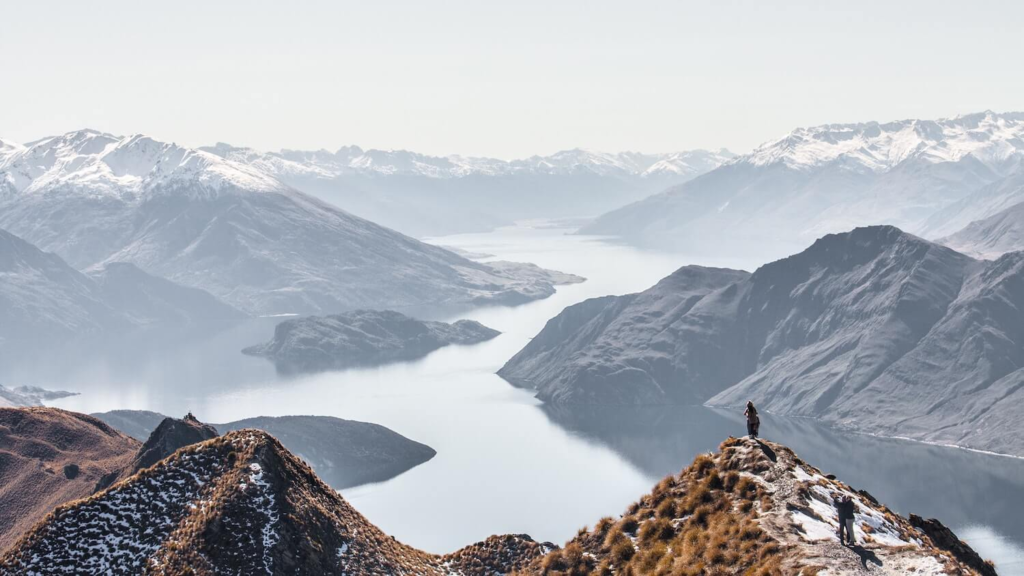 Image Source: https://www.globotreks.com/
The South Island is typically drier in the winter because precipitation often turns to snow, especially at higher altitudes, whereas much of the North Island receives quite a wet winter. Mid-June marks the beginning of the ski season, which lasts until far into the spring. Three ski areas are located in the North Island's Tongariro region, while all other ski areas are in the South Island, particularly those in Queenstown, Wanaka, and Canterbury's mountainous regions.
Although Northland, New Zealand's northernmost province, is sometimes referred to be "the winterless north," this truly depends on how you define winter. Although the peninsula to the north of Auckland experiences substantially milder winter temperatures than most of the country (daytime highs of 59°F/15°C are not unusual, and frosts are infrequent), the peninsula is also highly wet in the winter. So, if you do visit it in the winter, consider its moniker with a grain of salt.
In the South Island, particularly in the mountains, winter is typically the busiest season. In the North Island, winter is the off-season.
Events in Winter
Queenstown Winter Festival. Since skiing is popular in the area, Queenstown welcomes winter rather than runs away from it. The beginning of the ski season is celebrated at this festival in June with free concerts and snow sports competitions.
Birdman, Russell. Check out this bizarre festival in Russell, Bay of Islands, if you're touring the summerless north in July. Competitors leap off Russell Wharf while dressed as birds!
New Zealand International Film Festival, Auckland. You might be able to attend this festival in different cities around the nation because it starts in Auckland in July and moves around the country after that.
Winter Games, Queenstown/Wanaka. This August winter sports festival emphasizes curling, ice hockey, skiing, and snowboarding. Even if you don't engage in these activities yourself, watching them can be entertaining.
Beervana, Wellington. Beervana in Wellington honors New Zealand's booming craft beer culture. An excellent excuse to hibernate inside in August in Wellington.
Spring in New Zealand (September to November)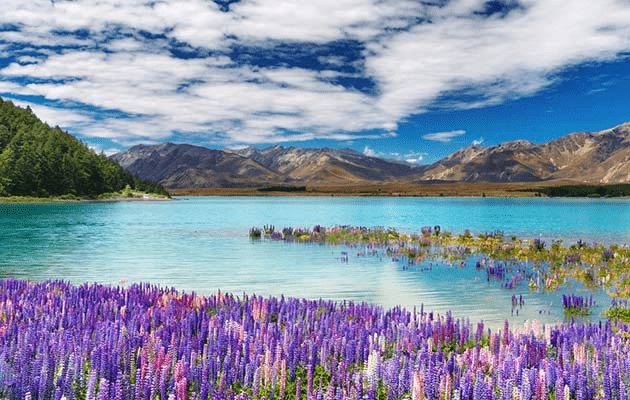 Image Source: https://www.dailybulletin.com.au/
In New Zealand, spring may be a fantastic time to visit because the weather is warming up after the winter, the days are becoming longer, and there are still less tourists in the popular tourist destinations. Temperatures can become extremely summerlike starting in late October (although overnight may still be quite cold).
The number of foreign visitors increases in the spring, but domestic passengers are still few because most families wait until the summer to take vacations. Early in the season, the exception is in the area around ski areas. Since the ski season lasts into October, central North Island and South Island skiing is still very popular in September.
For outdoor activities, spring is an excellent time to visit several of the lower-altitude national parks. Snow can persist well into spring at higher altitudes. However, lower-altitude hikes and water sports (kayaking in Abel Tasman and rafting in Whanganui) are good in spring and there are fewer other tourists than in summer in locations like the Abel Tasman National Park at the top of the South Island and the Whanganui National Park on the North Island.
Whitewater rafting in the rivers of New Zealand is best done in the spring. Although it will be freezing (you'll probably need a wetsuit), the flow of rivers will increase due to melting mountain snow, making for some exciting and bouncing trips.
Events in Spring
World of Wearable Art, Wellington (September). This imaginative fashion and art expo features innovative local and global fashion designs. The WOW Museum in Nelson is open all year round and changes its exhibits following the Wellington show.
Whitianga Scallop Festival (September). Although New Zealanders who enjoy seafood are usually in luck, they shouldn't miss this event in the little village on the Coromandel Peninsula.
Taste of Auckland (October). Renowned chefs compete at this food and drink event to create the most well-liked meals. Anyone who enjoys food and happens to be in Auckland shouldn't miss this.
Toast Martinborough (November). This yearly wine festival is attended by a number of vineyards in this well-known wine-producing community on the lower North Island.
Plan Your Dream Vacation With Us
Who wouldn't want to spend their vacation in New Zealand? Many people, however, are perplexed when arranging a trip where you may manage hotels, airlines, packages (flight + hotel), or tourist attractions all in one spot. The solution to all of your travel-related problems is iLikeToTrvl. To arrange the ideal trip anywhere in the globe, go to the website. Book your trip with us in advance.