Which are the best Lake Como restaurants with a view? There are lovely landscapes, quaint villages, and a variety of water sports at Lake Como. Walking, mountain biking, kitesurfing, sailing, water skiing, and boating are all excellent activities in the vicinity. Numerous mouthwatering restaurants may be found nearby as well. The top eateries in Lake Como are listed below.
1. Il Sereno Al Lago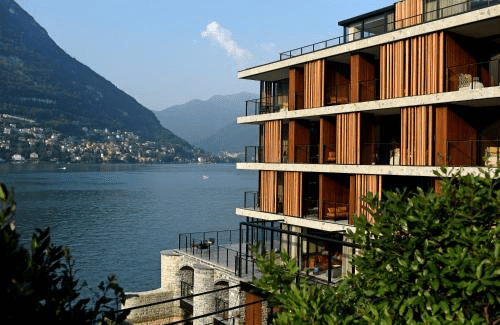 Image Source: https://www.booking.com/
The nicest views in town are at this eatery. Enjoy your wine while sitting on Il Sereno Al Lago's decks and feeling the sea wind on your cheeks. The site absolutely takes your breath away as the water glistens like jewels in the sunlight.
In addition to the beautiful scenery, the food here is out of this world! Because they serve both international and Italian cuisine in their kitchen. Each meal is delectable and pairs well with their wine selection.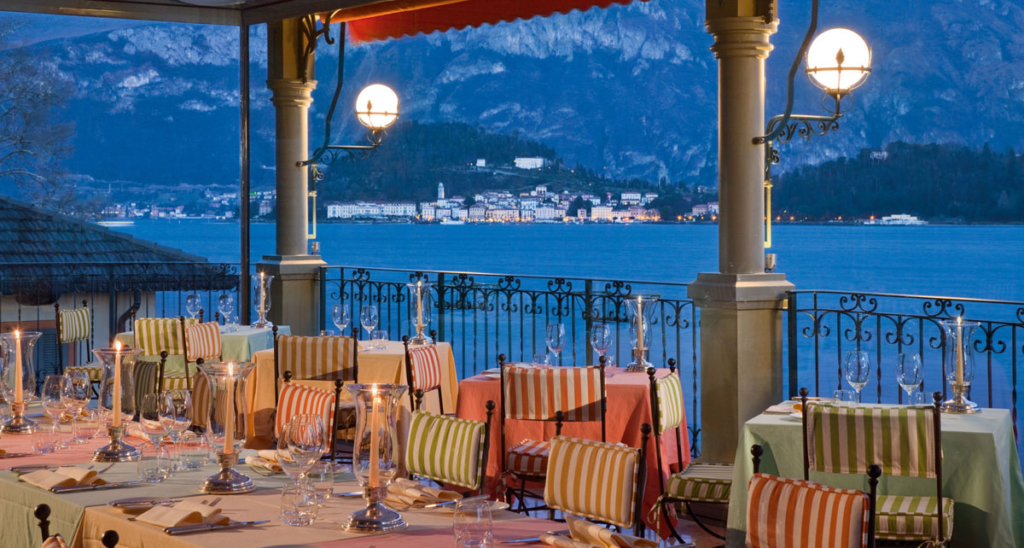 Image Source: https://www.grandhoteltremezzo.com/
A masterwork in the famous Nouveau style, the Grand Hotel Tremezzo was constructed on the western banks of Lake Como. The property stretches toward the Grigne and Bellagio mountains and is incredibly beautiful.
Additionally, while dining outside in the bright sun, you can hear the waves crashing. The food at the Grand Hotel is on par with royal cuisine because it is a premium hotel. Highly advised if you're in the area.
Image Source: https://www.lhw.com/
This location typically comes in first when ranking the best hotels in Italy. Aristocrats and princesses have lived at Villa D'este Como for many years.
Due to the fact that the top-notch resort offers visitors from all over the world special experiences, we suggest dining at the veranda, Il Platano, and sundeck. Additionally, the flower arrangement they have combines well with the aquamarine waters. It's a sight to behold, for sure! Both the decor and the scents were wonderful.
4. Le Luci Del Lago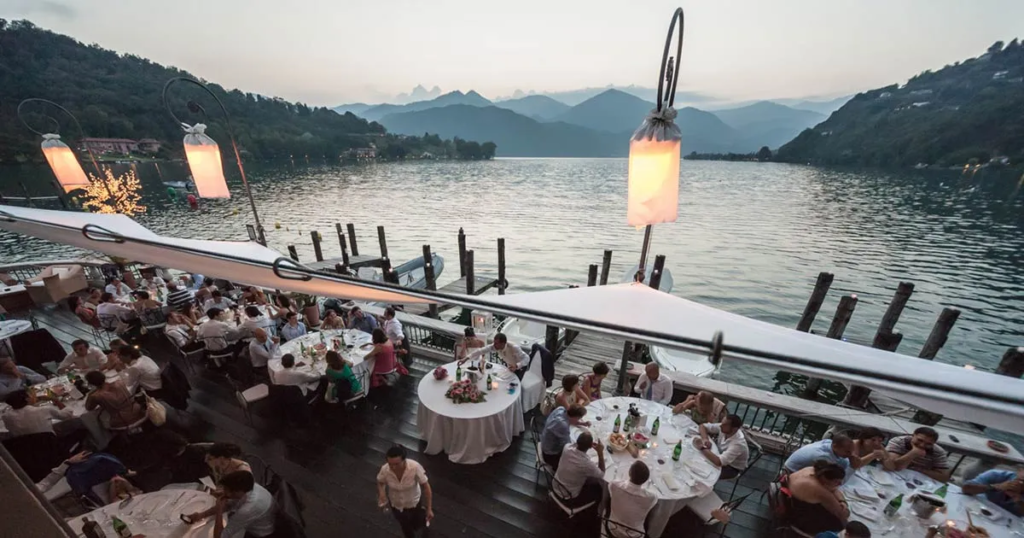 Image Source: https://www.lagomaggioresposi.com/
Sit beneath the white umbrellas and enjoy the view of the boats passing on the brilliantly lit cities at night! One of the nicest views in town can be found at Le Luci Del Lago. Even if the food is excellent, they are renowned for their aesthetic viewpoints.
Additionally, they serve food that is Italian, Mediterranean, seafood, Lombard, and northern Italian in their kitchen. Nevertheless, we adored the staff and the stunning surroundings.
5. Albergo ristorante vapore
A romantic date at Albergo Ristorante Vapore would be ideal. Sunset is the ideal time to eat. Your eyes will never forget the ominous orange tint of the setting sun behind the magnificent mountains!
In addition to beautiful vistas, their food is also excellent. They serve Italian, Mediterranean, and seafood-based cuisine to their clients. Ideal location for a romantic evening out.
6. Figli Dei Fiori
A restaurant and flower shop are also part of Figli Dei Fiori. As you go inside the restaurant, you are surrounded by lovely flowers and a variety of lingering food and floral scents. You have a great feeling!
Additionally, the cuisine is excellent. Definitely give them Primi and Secondi a try. Furthermore, the portions are also very generous. Overall, it is a joyful place to be.
7. Mandarin Oriental
This really stunning location in Italy is created with lovely lighting and a cozy atmosphere. The five-star Mandarin Oriental Hotel Como offers all the comforts and conveniences of contemporary living. Eat at L'aria en CO.MO bar & Bistrot, which we highly suggest.
Because the luscious blue seas and charming seating options make it the ideal location for a delectable dinner. There are sweet flower arrangements and scented candles on each table. appeared cute.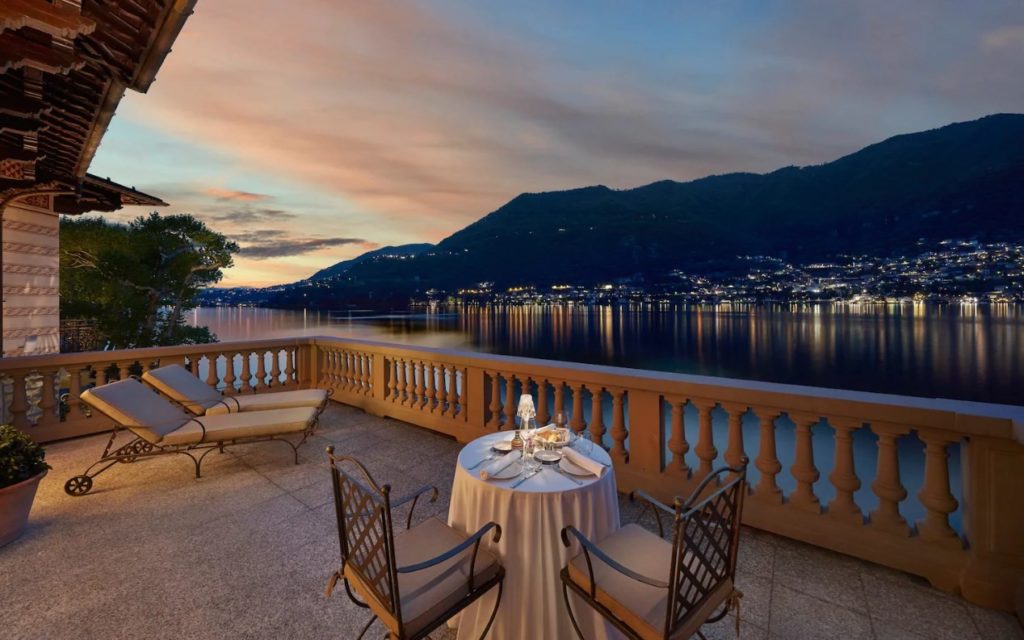 8. Villa Lario
A spacious deck, crystal-clear water that splashes, and bread baskets on your table. In addition to being a luxury hotel, Villa Lario's restaurant is on par with any upscale dining establishment. They serve great, fresh meals. Additionally, their personnel is genuinely friendly and competent.
You'll adore how the space has been minimally set up while yet being beautifully ornamented with plants.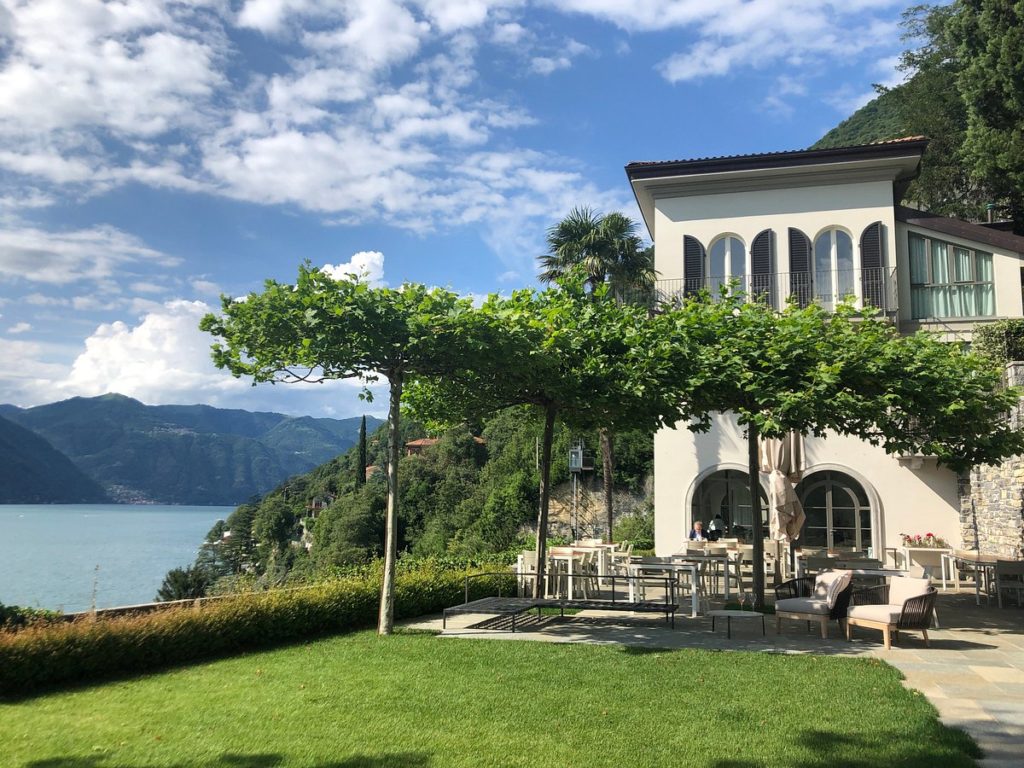 9. Harry's bar
A hip restaurant called Harry's Bar is situated in a verdant garden. Mediterranean and Italian cuisine are served in their kitchen. Additionally, the personnel is friendly. Let us also mention how fantastic their steaks are. This place is great, in our opinion!
Enjoy the symphony of the music while taking in the breathtaking views of the mountains as the piano plays in the distance. calm and unwinding.
10. Ristorante Raimondi
The sitting area has grand vistas, street lamps all around it, and a comfortable atmosphere. We've noticed Ristorante Raimondi. Furthermore, their food is excellent.
Italian, Mediterranean, and seafood-based dishes are served in the kitchen. Raimondi provides vast oceans, a setting sun, breathtaking vistas, and delicious meals. We are ready for it, too!
Plan Your Dream Vacation With Us
Who wouldn't want to spend their vacation in Italy? Many people, however, are perplexed when arranging a trip where you may manage hotels, airlines, packages (flight + hotel), or tourist attractions all in one spot. The solution to all of your travel-related problems is iLikeToTrvl. To arrange the ideal trip anywhere in the globe, go to the website. Book your trip with us in advance.