Is it safe to travel to Colombia? This South American location is vibrant, lively, and overflowing with things to do. Yes, Colombia is safe to visit in general.
COVID-19 in Colombia: What You Need To Know Before You Go
In response to the pandemic's outbreak in March 2020, Colombia acted swiftly and decisively. Colombia's borders were shut in March 2020 and weren't reopened until September 2020. Colombia will need vaccination documentation or a clean medical test result for entry starting in 2022. The bottom line is that Colombia has safety measures in place.
Colombia is a country at peace
Colombia has experienced an extraordinary era of peace since a 2016 pact put an end to the country's long-running civil war between the government and the rebel FARC. This means that as a traveler, you will experience a cultural renaissance.
While soaking in all the breathtaking landscapes this nation has to offer, enjoy Colombia's unrivaled food scene, ecotourism sector, and explosion of unique music.
Colombia's major cities are safe — and getting safer
The major cities of Colombia make fantastic travel destinations. Check with a Colombian local to see what suits your travel preferences as each one offers something slightly different. Furthermore, they continue to become safer and safer. They consist of:
Contrary to what is depicted in the media, Bogota is among the safest cities in South America. In fact, Pope Francis visited the city himself in 2017. Although you should exercise the same caution when visiting Colombian cities as you would when visiting any other cities, it's important to know that Bogota has fewer violent crimes per capita than Indianapolis, Indiana.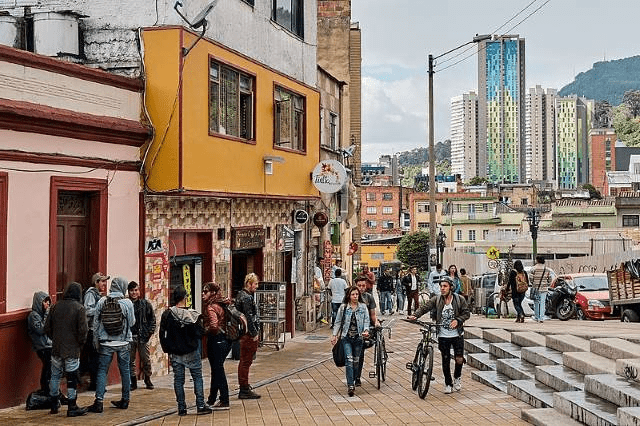 Image Source: https://borgenproject.org/
In fact, Bogota is rapidly rising to the top of the list of hippest cultural cities in the globe. It is a city with numerous distinctive neighborhoods where visitors can gain local knowledge. Bogota, according to our travel organizers, is the city of music, gastronomy, dance, and art. They recommend visiting one of Bogota's many museums, dancing salsa at a neighborhood bar, or eating some typical tinto (thick, sweet, black coffee). Bogota has only gotten safer and livelier since the FARC and the government reached a peace agreement in 2016.
Medellin
The majority of people associate Medellin with Pablo Escobar, cocaine, and crime, yet locals contend that this is completely untrue. Medellin is currently at the forefront of safety and urban renewal. There are several parks, eateries, and art galleries in the area. In 2013, it was designated The World's Most Innovative City, and in 2016, it was awarded the coveted Lee Kuan Yew World City Prize for urban development.
Image Source: https://en.casacol.co/
The city's cutting-edge metro system, impromptu street performances, and vibrant culinary scene all excite visitors to Medellin. Eco-árboles, enormous tree-like structures that can individually filter 22,000 cubic meters of air per hour, haven't even been mentioned yet.
Cartagena
If crowded cities aren't your thing, unwind in Cartagena, a real gem. Cartagena, a city in Colombia's Caribbean region, is home to kilometers of exquisitely preserved, centuries-old architecture and pure golden beaches. Cartagena is popular with tourists from Colombia and outside because it is secure, enjoyable, and interesting. Getting local counsel will help you discover a side of Cartagena that most tourists overlook because the city can seem touristic.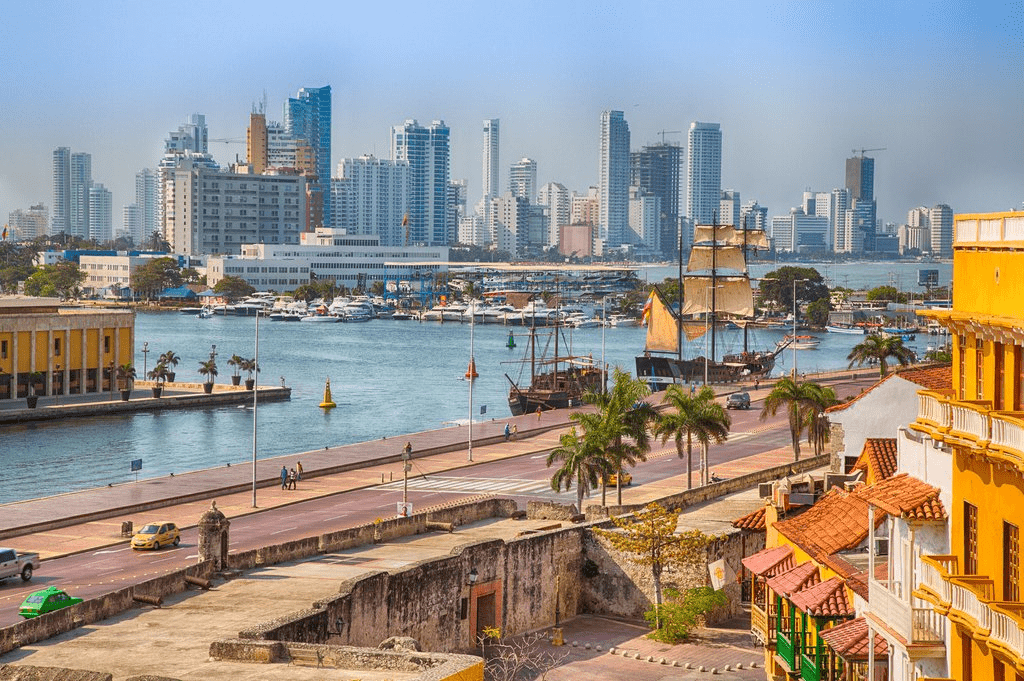 Image Source: https://www.kimkim.com/
Theft and scams are the only common crimes
Despite being extremely rare, Colombia is home to some of the world's most inventive con artists. These frauds, which range from the mundane to the absurd, can be easily avoided if you know what to look for and apply common sense.
Be mindful of your surroundings, especially at night, as you would in any large city. Criminals frequently operate in groups and hang around in tourist areas.
Never take food or beverages from strangers, not even gum! There have been incidents of thieves drugging people before stealing their possessions, however these are extremely, extremely rare.
Sometimes, fraudsters will offer to examine your cash to "check if it's counterfeit" while disguising themselves as undercover police officials. You shouldn't give it to them, of course. Some will even offer to provide you a phony police ID and a receipt in exchange for your money.
Keep an eye out in busy places since criminals will frequently distract you while helping themselves to your money.
Keep your wallet in the pocket on your front. Don't leave your handbag hanging on a chair or unattended if you carry one.
Keep your cash in multiple pockets and keep it separated. In the worst-case scenario, this tactic stops robbers from stealing all of your gear.
Solo travelers love Colombia
Solo travelers will find Colombia to be a welcoming and safe country. But you don't have to go it alone if you're a single traveler!
Consult locals in Colombia before you depart. Our tour planners suggest the following when it comes to safety tips for lone travelers in Colombia:
Know a little Spanish: Before you travel, learning a few essential Spanish phrases might help a lot. Our travel planners can add crucial terms to your personalized guidebook.
Be aware of your surroundings: Before visiting new neighborhoods, do some homework, and remain among the crowds. Get insider tips on which areas of the city to avoid if you have any reservations about visiting particular locations.
Take the same safety precautions you would everywhere else: Don't accept alcohol from random people, obey the law, and always be aware of your surroundings.
Although there are still instances of catcalling and sexual harassment (the patriarchy knows no bounds), Colombia is not worse than any other nation in this regard.
However, getting safety information from Colombian natives who are the most knowledgeable is useful. Women make up a large portion of our trip planners, and they can explain how they navigate their own cities.
Kidnapping has dropped to almost nothing
This is not 'Narcos'! These days, Colombia's neighbors are significantly more at risk from kidnapping than Colombia itself.
In fact, during the past 15 years, Colombia's kidnapping rate has decreased by a startling 90%. Keeping away from dangerous regions (like deserted country highways) can significantly lower your risk of harm.
Get some local advise if you're unsure of where to go (and where to stay away from).
The water is safe to drink
Spending money on bottled water is unnecessary because the tap water in Colombia's major cities is some of the best in the world. The water quality of Medellin and Bogota is renowned for being exceptional.
Locals warn us, though, that the quality of the tap water in rural Colombia can vary somewhat.
Using Uber in Colombia
Customers were advised that they could no longer utilize Uber in Colombia in January 2020. However, less than a month later, Uber returned to Colombia. There are some new guidelines. In essence, you can rent a vehicle with a driver. You'll have choices, such as hourly rentals and a selection of vehicles.
Confused? Not to worry. There are a lot of additional transportation possibilities, according to the locals. Exactly…so many. Get advice from an insider on how to travel in Colombia safely. You can ask locals how they navigate their nation.
It's a great family destination
Colombia provides something for everyone, especially families, from the stunning beaches and lush rainforests of its Caribbean coast to the coffee-rich slopes of the Andes.
In reality, a lot of lodging establishments, ecotourism destinations, and even coffee estates offer special family travel packages. Colombians are known for being warm and family-oriented, and they enjoy interacting with new people. There's nothing worse than spending hours planning just to discover that you're missing out on the real Colombia, so be sure to obtain some advice from locals on how to meet people.
Colombia's renowned focus on families is evident when it comes to kid-friendly activities. There are a ton of family-friendly activities available all over Colombia, whether you want to go snorkeling off the coast of the Caribbean island of San Andres, explore the interactive Parque Explora museum in Medellin, or learn about conservation while strolling through the renowned Cali Zoo (home to some of Colombia's rarest animals).
Healthcare for tourists is top-notch
Colombia's modern hospitals, which have one of the best healthcare systems in the Americas, are gradually earning a reputation for being accessible and offering high-quality care. The country of Colombia has exactly as strict medical regulations as the US, and many of its medical professionals have received international training.
So, if you're concerned about maintaining your health while visiting Colombia, you shouldn't be because, as rated by the World Health Organization, healthcare in Colombia is actually superior than that in the US or Canada.
Plan Your Dream Vacation With Us
Who wouldn't want to spend their vacation in Colombia? Many people, however, are perplexed when arranging a trip where you may manage hotels, airlines, packages (flight + hotel), or tourist attractions all in one spot. The solution to all of your travel-related problems is iLikeToTrvl. To arrange the ideal trip anywhere in the globe, go to the website. Book your trip with us in advance.