Are you wondering which are the best places to visit in Southern Spain?
Are you envisioning exuberant flamenco, breathtaking bullfights, jubilant fiestas, the majestic Sierra Nevada, charming white villages, a glorious Moorish past, delectable tapas, sweet sherry wine, rejuvenating sunshine, stunning sand beaches on Spain's southern coast, elegant Andalusian horses, etc.?
That is all Andalusia, indeed! Andalusia is among the best places to visit in Spain.
The greatest way to discover real southern Spain is to visit the following most stunning locations there.
The following locations in Andalusia include both well-known white villages and southern Spain's major cities (pueblos blancos). Seville, Granada, Malaga, and Cadiz are unquestionably some of Spain's most picturesque places to visit. But typical white Andalusian villages are also a must-see when in Spain.
Best places to visit in Southern Spain:
1. SEVILLE
You must visit Seville if you are in the south of Spain.
The Andalusia region's capital, Royal Seville, is a popular tourist site and a must-see in southern Spain.
One of Spain's most well-known cities and one of the best in all of Spain is Seville. But Seville stands out as one of the world's most picturesque and charming cities. Seville embodies an exquisite fusion of Jewish, Islamic, Gypsy, and Andalusian traditions with an aristocratic air.
So it makes sense why Seville is now a well-liked Camino de Santiago Via de la Plata route beginning point.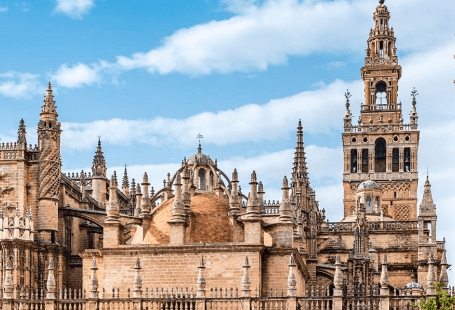 Image Source: https://www.visitasevilla.es/
The Alcázar of Seville, one of the most lavish royal palaces in the world, is located in Seville, the city that is also home to the Seville Church, the biggest Gothic cathedral in the world.
Real Alcazar Palace and Gardens, the elegant Giralda tower of Seville Cathedral, a stroll through the magnificent Plaza de Espana, a break in the alluring Parque de Maria Luisa, and in the evening, a trip to the vibrant neighborhood of Triana for mouthwatering Andalusian tapas and some of Seville's best flamenco are all necessary to experience the spirit of royal Seville.
However, Semana Santa (Holy Week) and Feria de Abril are the two events that offer the best opportunity to visit Seville and experience Seville in all its splendor (Seville Fair).
Spectacular religious processions pass through Seville for a week during Holy Week, and for seven days during Feria de Abril, Seville celebrates the joy of life by mingling, dancing, eating, and drinking.
2. GRANADA
While Granada is artistic, Seville is aristocracy.
You may easily fall in love with Seville's opulence, but you could equally fall head over heels for Granada's bohemian attitude.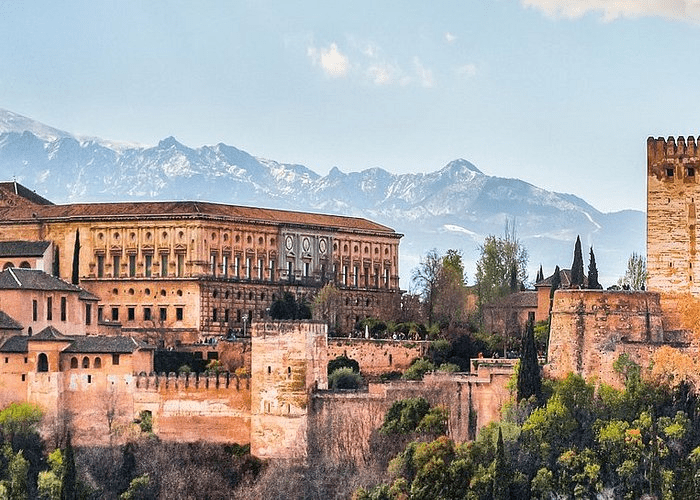 Image Source: https://www.tripadvisor.co.uk/
In the Darro Valley, at the base of the famed Sierra Nevada, sits the artistic and bohemian city of Granada.
The last stronghold of the Arab caliphate was Granada. Alhambra Palace, a masterpiece of Moorish architecture, and Generalife Gardens are located there.
Granada is not just about the Alhambra Palace, despite the fact that it is the most popular tourist destination in Spain. Along with the well-known Sacromonte caves, Granada is also known for its picturesque cobblestone alleys, quaint tapas bars, and the historic Arabic quarter of Albayzin.
It goes without saying that Granada is not the only fantastic tourist destination in southern Spain. Additionally, it is among the top Spanish cities to visit!
3. CORDOBA
Moorish Spain's former capital was Cordoba.
Today, Cordoba is one of southern Spain's most stunning cities. In truth, Cordoba is an Andalusia historical treasure with an incredibly beautiful aura.
One of the biggest tourist spots in Andalusia is Cordoba.
The iconic Mezquita-Catedral, a must-see in Spain, is located in Cordoba. You can't help but be in awe of Cordoba's La Mezquita, a UNESCO World Heritage Site. Muslim, Jewish, and Christian religious tolerance were lauded in medieval Cordoba.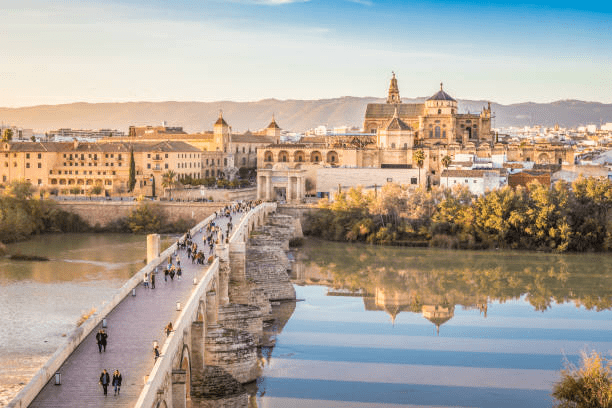 Image Source: https://www.istockphoto.com/
It is a great pleasure to stroll through Juderia, the Old Jewish neighborhood of Cordoba, and take in the patios along Calleja de las Flores (Alley of the Flowers). A quick trip back in time can be achieved by visiting the palace and gardens of Alcazar de Los Reyes Cristianos and over the ancient Roman Bridge over the Guadalquivir River.
The annual Courtyard Festival, or Fiesta de Los Patios, takes place in May, making it the ideal time to visit Cordoba. Patios in Cordoba with geraniums in bloom are open to the public during the festival, and the city's streets are scented with flowers.
Any list of Spanish cities to visit should include Cordoba!
4. CADIZ
The magnificent Andalusian city of Cadiz is located on the Atlantic Ocean and has a stunning coastal promenade.
Spain's oldest city is Cadiz. But above all, Cadiz is one of the most stunning cities in southern Spain.
One of the best places in Southern Spain to visit for delicious seafood, lovely beaches, and kind locals is Cadiz.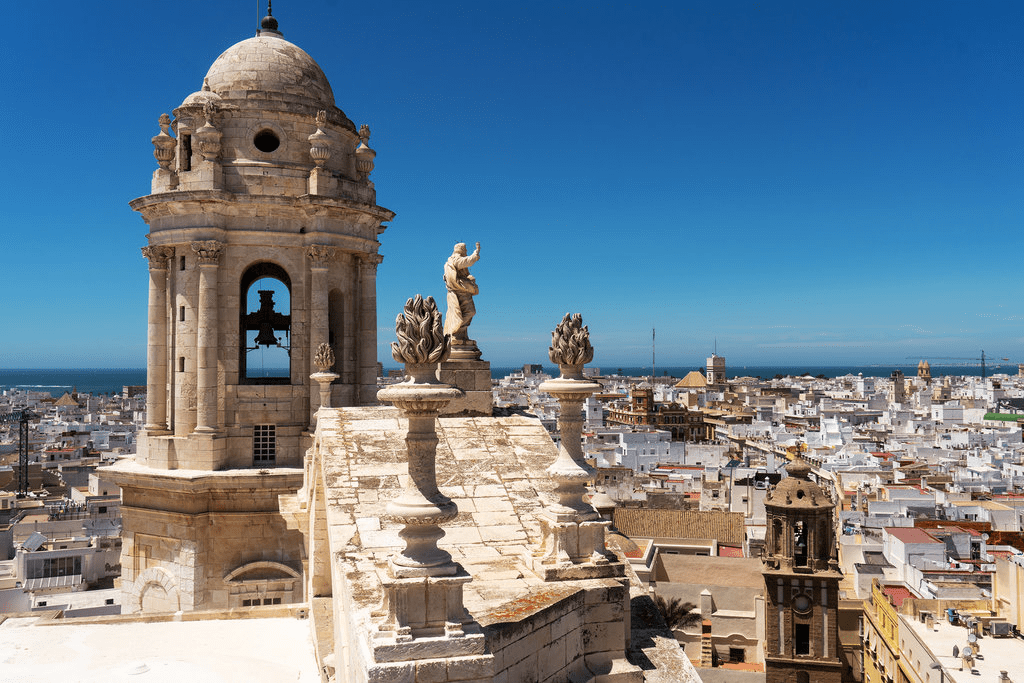 Image Source: https://www.nytimes.com/
For the sake of history lovers, let's suppose that Cadiz is the oldest continuously inhabited city in Western Europe and was founded by the Phoenicians 3.000 years ago. It's also worth emphasizing that in the 19th century, Cadiz became the site of the first Spanish constitution, known as La Pepa.
The best seafood in Europe can be found in Cadiz, which is located in Andalusia. The nicest seaside town in southern Spain is Cadiz. You may find some of the nicest beaches in southern Spain at La Caleta, Santa Maria Del Mar, or La Victoria beaches in Cadiz.
5. JEREZ
Andalusia's soul and heart are at Jerez.
Flamenco originated in Jerez de la Frontera, which is also where Andalusian horses and sherry wine are produced. Yes, this is the region where the majestic Andalusian horses are bred and where the sensual and passionate flamenco music originated.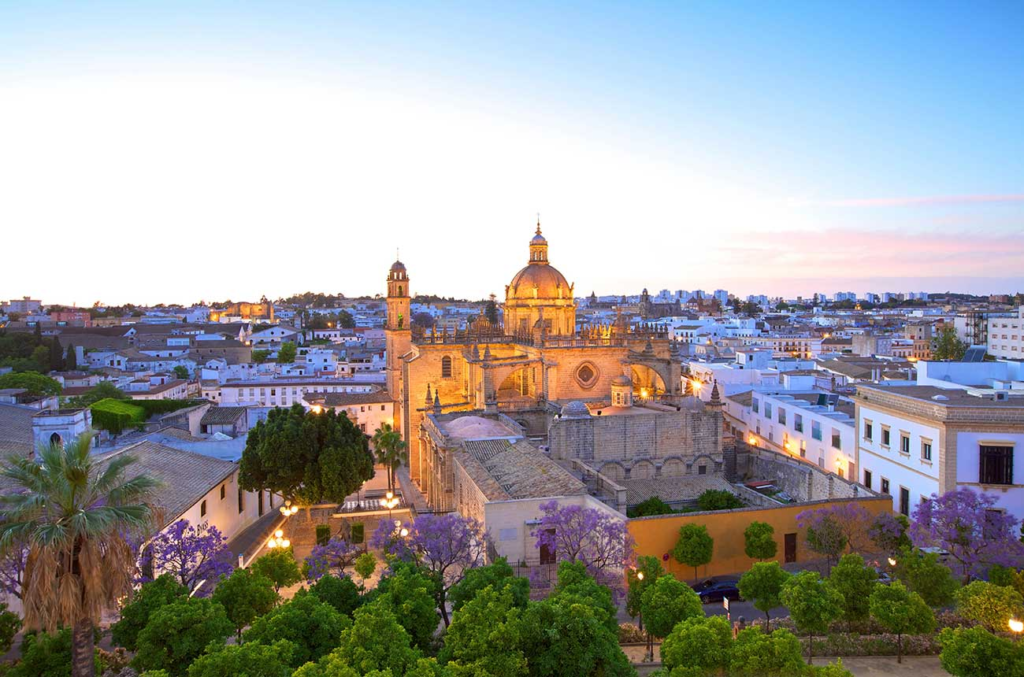 Image Source: https://www.decanter.com/
In the traditional sherry shops known as "tabancos," where wines are served straight from the casks to your glass. Jerez is the ideal location to enjoy in true sherry wine and some outstanding delectable tapas dishes. The "ruta de tabancos" will give you a true sherry sensation. When the annual Feria del Caballo, a celebration of flamenco, sherry wine, and Andalusian horses, takes place in May. Jerez is one of the best places to travel in Spain.
Without a doubt, Jerez is one of the most genuine cities in southern Spain and a special location to visit.
6. RONDA
The most beautiful and dramatic town in Andalusia is Ronda, which is perched on a rock above the El Tajo gorge.
The Plaza de Toro in Ronda, the first bullring in all of Spain, is where bullfighting first began. One of Andalusia's most attractive villages, Ronda is a must-visit destination in Spain that will live in your memory. Ronda's must-see attractions include the magnificent Puente Nuevo bridge across the canyon and Banos Arabes, one of Andalusia's best-preserved Arab baths.
Particularly adored by writers and artists alike is Ronda. Just to mention, Ronda was complimented for its beauty by Ernest Hemingway and Alexander Dumas.
7. IZNAJAR
Iznajar is a pristine, classic Andalusian hilltop village with whitewashed walls and red roofs.
With stunning views of the 32 km long Iznajar lake, the longest lake in Andalucia, it is one of the most picturesque settlements in Southern Spain. Iznajar is also a gateway to the Sierra Subbeticas Natural Park. Iznajar should without a doubt be included on your itinerary if you want to experience a real Andalusian village that is whitewashed and off the beaten path. especially if you enjoy being outside. On Valdearenas Beach near the Iznajar lake, you can go swimming, sailing, and engaging in other water activities.
iLikeToTrvl Can Help You Plan The Dream Vacation.
Who wouldn't want to stay in one of Southern Spain's top hotels? When booking a trip where they may manage hotels, airlines, packages (flight + hotel), or tourist attractions all in one place, many individuals, however, are baffled. iLikeToTrvl is the answer to all of your travel-related issues. Visit the website to plan the perfect trip anywhere in the world. Plan ahead and book your trip with us!