South Africa is an incredibly diversified nation, with areas as varied as the Kalahari, subtropical beaches, and snow-capped mountains. The South Africa national parks and game reserves, which display an astounding variety of landscapes, are fantastic locations to experience true wildness and get up close to Africa's renowned animals.
South Africa boasts hundreds of national parks and game regions, if you count private reserves. While some reserves are essentially nature sanctuaries or hiking places, others place more of an emphasis on wildlife encounters. Here are the top national parks in South Africa to add some natural beauty to your travel plans.
Kruger National Park
One of the best places in the world to see wildlife is Kruger National Park. Elephant, lion, leopard, cheetah, rhino, buffalo, giraffe, hippo, and zebra are some of Africa's most recognizable species. They coexist in the bushveld with 136 other mammal species and more than 500 bird species. Beautiful granite kopjes (hills) dot the southern portion of this 7520 square mile park, which is surrounded by tropical forests in the north and the Lebombo Mountains, which rise from the savanna in the east.
Yes, we agree that safari groups can occasionally cause Kruger to become congested. And to see those lions around a kill, you might have to wait in line. On the other hand, Kruger is one of Africa's most accessible parks and is great for families thanks to its extensive road system. A wide variety of guided wildlife safaris are available, or you can explore on your own with your own vehicle. There is also plenty of affordable lodging.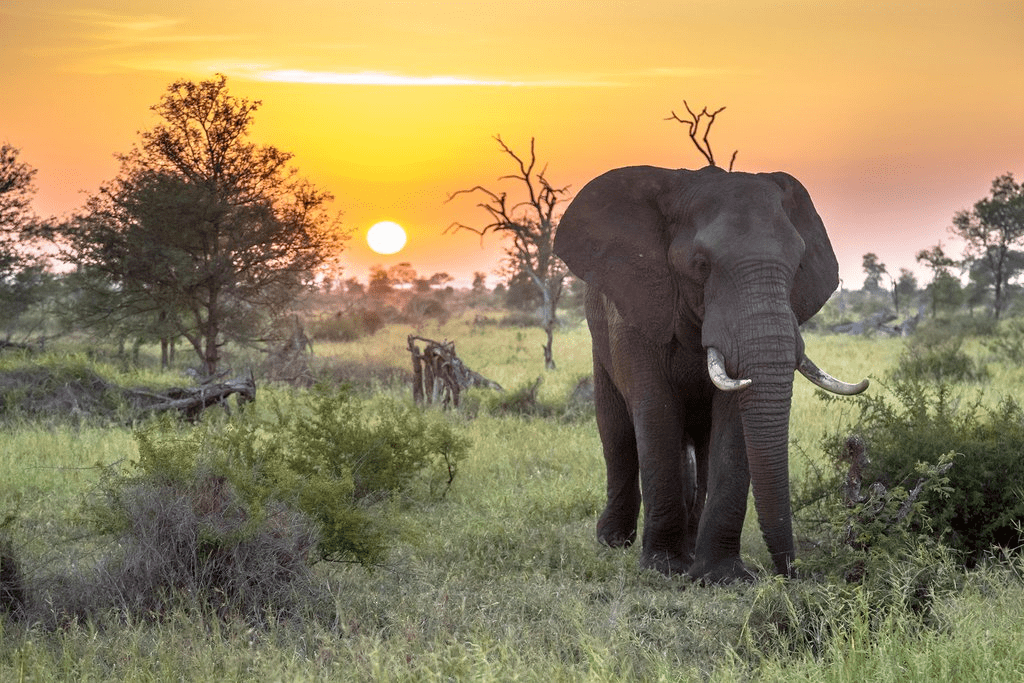 Image Source: https://www.kimkim.com/
Royal Natal National Park
The 30 sq mile Royal Natal National Park, which fanning out from some of the highest summits in the Drakensberg highlands, has a presence that far exceeds its tiny size. The park is topped by the magnificent Amphitheater, a 5km (3 mile) wall of cliffs and gorges that is spectacular from below and considerably more dramatic when viewed from above. It has some of the Drakensberg's most dramatic and accessible landscape.
The Tugela Falls, which plunge 945 meters (3100 feet) here in five stages, frequently freeze in the winter. At 3282m (10,768ft), Mont-aux-Sources, which gives the Tugela, Elands, and Western Khubedu Rivers their names, looms in the background. The Senqu (Orange) River, which eventually drains into the Atlantic, is the last river. The park is well known for its fantastic options for multiday hikes as well as wonderful day hikes.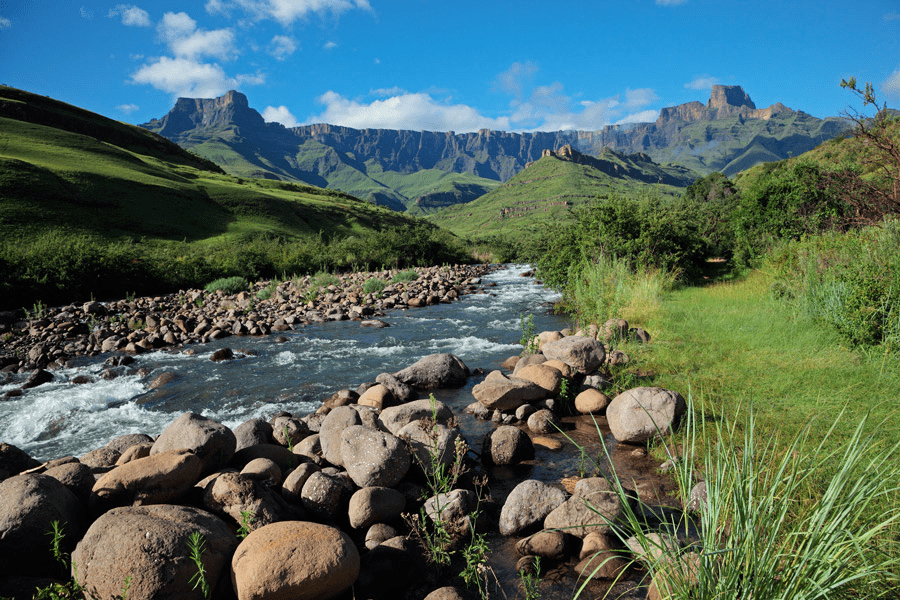 Image Source: https://www.wildlifeworldwide.com/
Golden Gate Highlands National Park
In Golden Gate Highlands National Park, a beautiful phenomenon transpires just before the darkness obliterates the last flecks of color from the sky. The rugged, maroon-hued Maluti Mountains' foothills are framed by craggy sandstone outcrops that shimmer golden in the waning light. Before the sky erupts in a blazing clash of purple and scarlet, the lemon-yellow rays may outline a lone kudu standing still in a sea of mint-green grasses. Although the Big Five are not present at Golden Gate Highlands National Park, there are some spectacular sunsets there.
There aren't many animals in the park, there are plenty of birds, including the highly endangered bald ibis, rare bearded and Cape vultures, as well as grey rheboks, blesboks, elands, oribi antelope, Burchell's zebras, jackals, and baboons. Although there are shorter walking pathways, long hikers are known to frequent the park.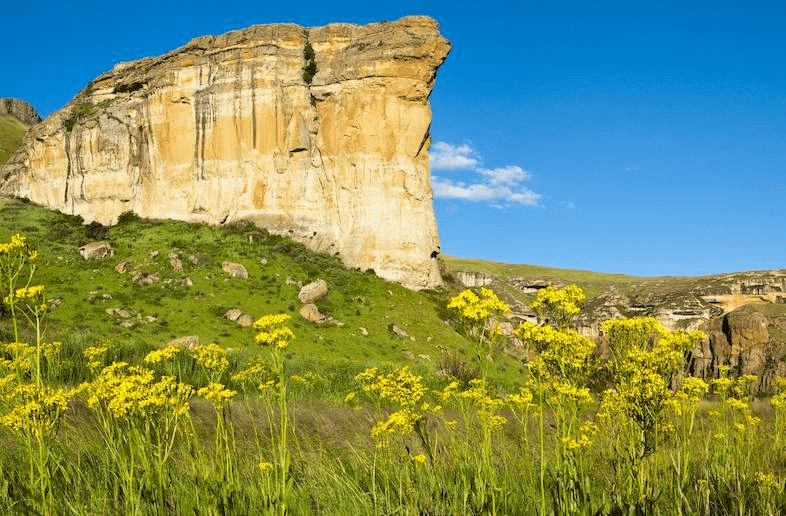 Image Source: https://www.nature-reserve.co.za/
Kgalagadi Transfrontier Park
From Upington to Kgalagadi Transfrontier Park, one of the world's remaining great, pristine ecosystems, a long, burnt route winds between crimson dunes. You'll understand why the travel was worthwhile as soon as you arrive at this magnificent park, nestled away alongside Namibia in the Northern Cape and spilling into southwest Botswana.
The Kgalagadi is a severe environment with periodic droughts, fluctuating red and white sands, thorny tree clumps, and bone-dry riverbeds. The park is teeming with species in spite of the barren surroundings. There are 1,775 predators in this area, including spotted hyena groups and black-maned lion prides. It is among the best locations on earth to see large cats, particularly cheetahs. You'll think you've entered the fictional Africa when you see enormous orange sunsets and star-studded, black-velvet skies at night.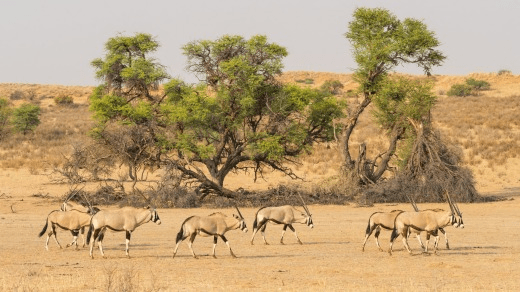 Image Source: https://www.traveller.com.au/
Cederberg Wilderness Area
The barren Cederberg Wilderness Area contains some of the Western Cape's most beautiful landscapes. Here, jagged peaks rise to a height of about 2000 meters (6560 feet), where they are home to strange rock formations, well-preserved San rock art, and crystal-clear mountain streams. It's a great place for rock climbing and trekking.
Though the fauna of the Cederberg isn't particularly well-known, you might see a baboon, a bat-eared fox, or one of the tiny antelopes that scamper among the rocks. At night, elusive leopards prowl the crags, although you'd be quite fortunate to see one.
The area is well known for its plant life, which includes abundant mountain fynbos (shrubby vegetation with fine leaves) and springtime wildflower blooms. The eponymous cedar stands grow between 1000m (3280ft) and 1500m, with the vegetation varying with altitude (4920ft). Additionally, this is the only location in the world where rooibos (a red bush) is grown and turned into tea.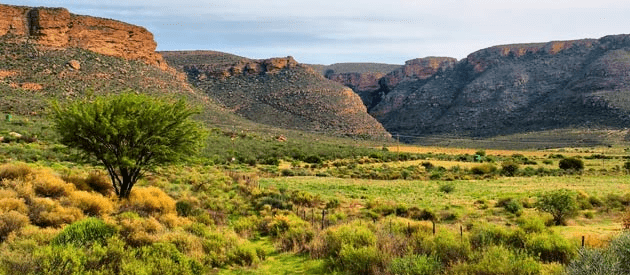 Image Source: https://www.activities-south-africa.co.za/
Blyde River Canyon Nature Reserve
At the dramatic confluence of the Drakensberg Escarpment and the Lowveld, where epic rock formations tower over forested slopes, is the breathtaking Blyde River Canyon Nature Reserve. One of the largest canyons in the world, it is also one of South Africa's most stunning natural wonders.
The Panorama Route (mainly Route 532) offers a number of breathtaking overlooks where you can pause and marvel, including the Three Rondavels, Bourke's Luck Potholes, and God's Window. Most visitors drive along the canyon's brink. But with so many walking routes, the canyon is even better explored on foot if you have the time.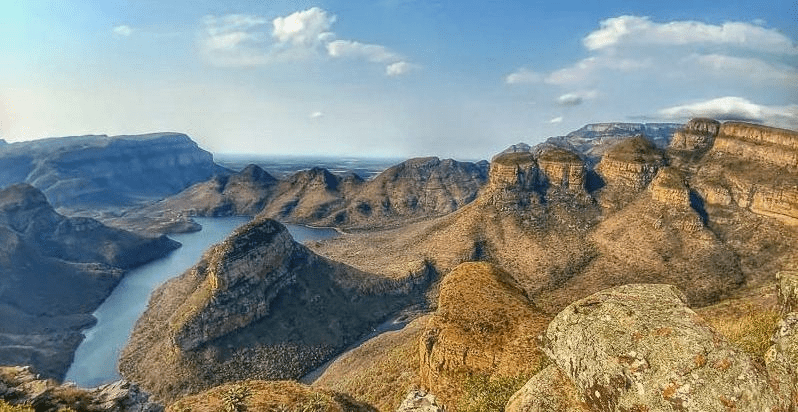 Image Source: https://www.travelwithbrothers.com/
Plan Your Dream Vacation With Us
Who wouldn't want to spend a holiday in a national park in South Africa? iLikeToTrvl is the answer to all of your travel-related issues. Visit the website to plan the perfect trip anywhere in the world.
Order your trip from us!