Dubai is ranked among the most expensive cities in the Middle East. It is the tourism hub of the region, but accommodation in Dubai can be quite costly. The best way to plan your trip is to find cheap hotels in Dubai to experience all the fun it has to offer.
It is possible to stay under budget and make the most of your Dubai trip. We have shortlisted affordable hotels in Dubai that can offer comfort and luxury without burdening your pocket.
Feature Image Source: Coin Desk
5 Cheap Hotels In Dubai
Following are the 5 best hotels to stay in on your trip to Dubai;
1. Lunar Hostel
When it comes to booking hotels under budget in Dubai, the Lunar hostel is an ideal option. It is located 400m from the Marina beach and provides accommodation with a bar, an outdoor pool, and a 24-hour front desk. It offers a shared lounge area and a garden with free Wi-Fi for guests. The Lunar Hostel has a satisfactory review rating of 8.4.
You can enjoy the sunny days at Marina beach or make a trip to Marina Mall. The mall offers a broad range of national and international brands and other fun activities.
2. Westminster South Ridge
Westminster South Ridge is a 15-minute walk from the Dubai Mall and Dubai Water Canal, with Dubai Fountain and Burj Khalifa a short distance away. The hotel has an average rating of 8.3 and offers free Wi-Fi, a swimming pool, a gym, and free parking.
During your stay at Westminster, we highly recommend you visit Dubai Mall. It is one of the most famous tourist attractions of Dubai and is considered and listed among the top-rated malls in the world. Besides an exquisite shopping experience, the mall offers many exciting activities and dining options. The mall restricts the entry of pets.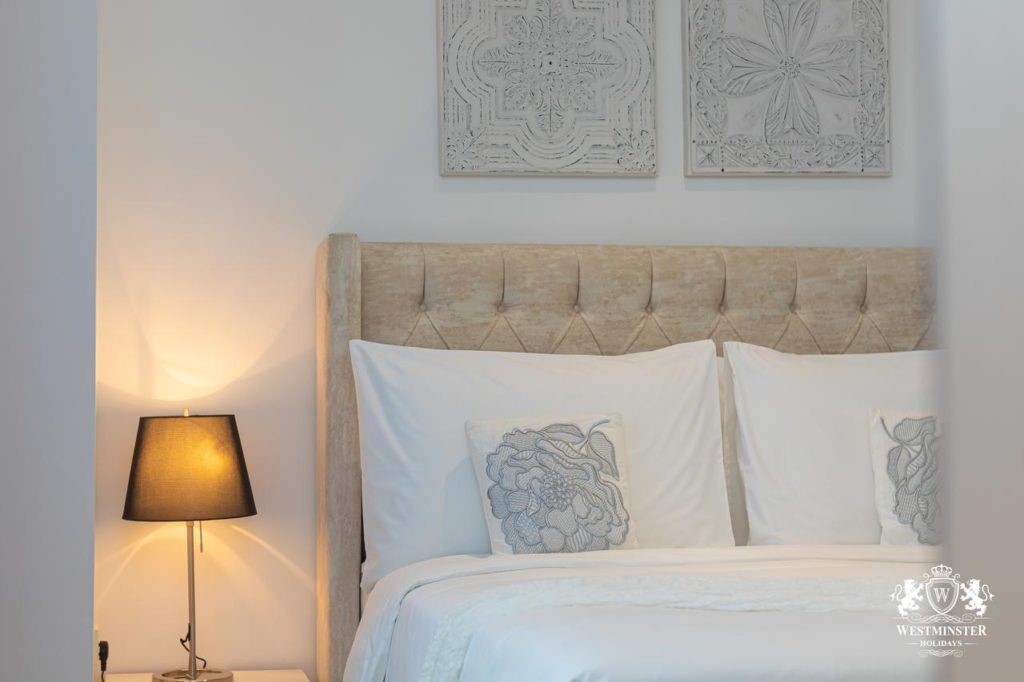 Image Source: Westminster
3. Four Points by Sheraton Downtown Dubai
Located in the heart of Dubai, Four Points by Sheraton Downtown Dubai has an impressive 4-star with an 8.7 average review rating. The hotel is located 15 minutes distance from the Dubai International Airport.
You can easily commute to the rest of Dubai with Khalid Bin Waleed metro station, which is just a short walk away. The hotel offers all the necessary amenities, including air conditioning, public Wi-Fi, and 24-hour front desk service.
Experience local food and shops at Bank Street, Gold Souk, and Dubai Port on the shores of Dubai Creek. You can also enjoy mouthwatering food at the in-hotel restaurants.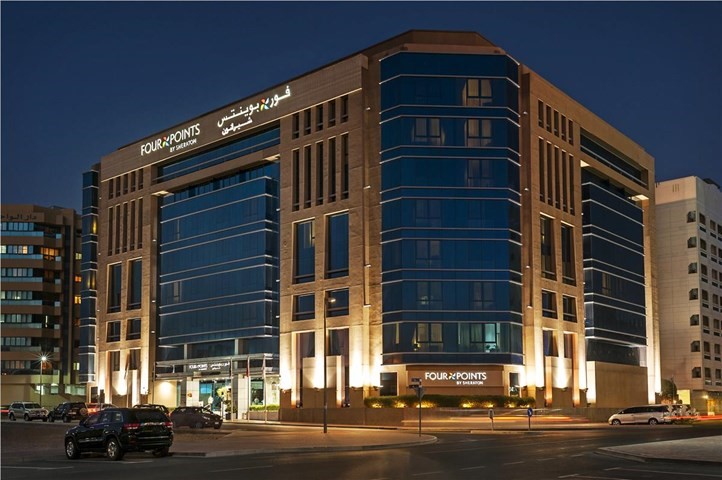 Image Source: Emirates Holidays
4. Rove Downtown
Rove Downtown has an impressive 9.1 rating. It is also located in the heart of downtown Dubai adjacent to The Dubai Mall and Burj Khalifa. The hotel offers meeting rooms for business people, free Wi-Fi, a 24-hour gym, a boutique store, and a laundromat.
The exciting feature of Rove is their cozy 46-seater licensed theatre room located on the hotel grounds and run by Reel Cinemas. You also have convenient access to Dubai International Airport, which is only a 20-minute drive away.
Moreover, guests can enjoy delicious breakfast and meals at the Nuevo hotel and Costa Coffee in the hotel lobby.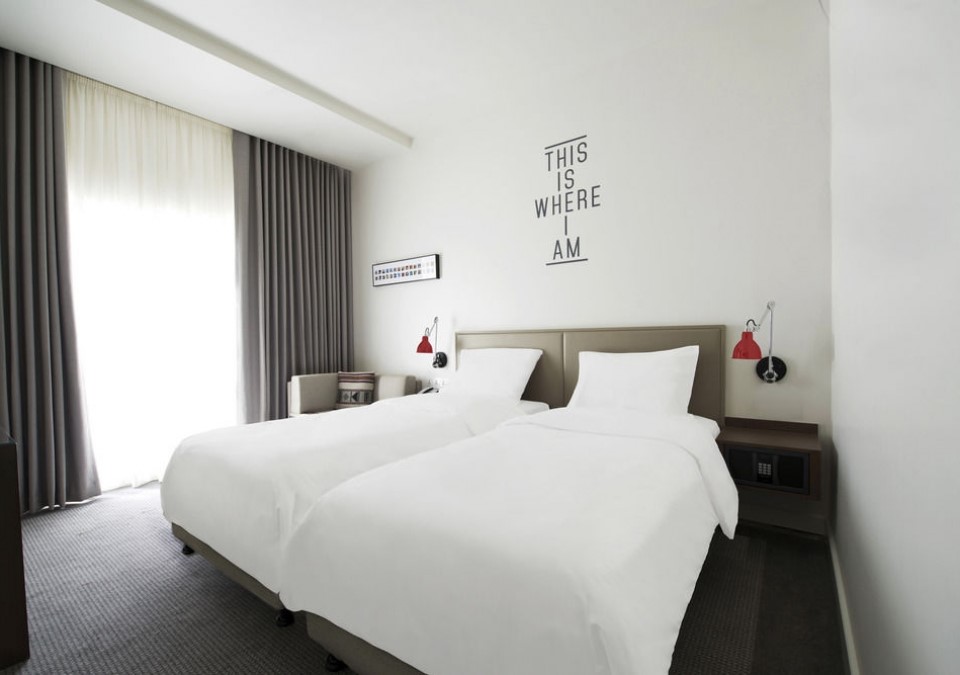 Image Source: Guiaem Dubai
5. Premier Inn Dubai International Airport
Premier Inn Dubai International Airport is situated directly opposite the Terminal 3 of Dubai International Airport. You can benefit from their free shuttle bus service from terminals 1 and 3. The hotel also offers a rooftop pool and an on-site gym facility.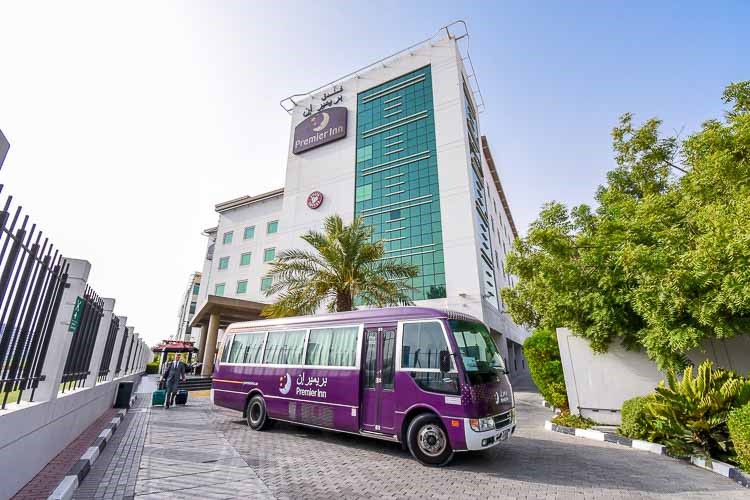 Image Source: Premier Inn
Book Cheap Hotels In Dubai With iLikeToTrvl
With its lavish malls, mesmerizing architecture, and beautiful beaches, Dubai has become one of the most frequented tourist destinations in the world.
Don't let the expensive accommodation keep you from making a trip to Dubai! Book budget-friendly hotels in Dubai with iLikeToTrvl.
With us, you can create your trip itinerary with the best and most affordable Packages (flight + stay) and experience tourist attractions, cities, food, insurance, flights, and travel diaries.
Visit our website to learn more. Your dream vacation awaits!