Hotels in California Huntington Beach
Huntington beach is a popular vacation spot not only for US residents but for people around the world. Each year the beach welcomes over 11 million visitors because of the welcoming attitude of people, pristine beaches, and ideal weather.
Whether you are planning a family, business, couple, or solo trip, Huntington beach is the perfect place to visit. You can enjoy walking in the fresh air in public parks, riding stables and equestrians, or spending time in the wildlife preserve.
If you are a sports enthusiast, you'll love this place. Huntington beach offers eight-mile biking trails, inline skating, and walking trails along the ocean. So, pack your bags and visit Hotels in California Huntington Beach
Best Hotels In California Huntington Beach
You don't need to worry about which hotels to shortlist. We have compiled the best hotels in Huntington beach based on their luxury, services, location, and other essential factors.
1. Paséa Hotel & Spa
Pasea Hotel & Spa has an impressive 8.7 rating. The 4-star hotel was constructed in 2016 with 250 rooms with staff speaking Spanish and English. It is at an ideal location where you can easily access Huntington Beach.
The hotel offers an empowering hour at Aarna Spa and a happy hour at Tanner's & Treehouse. The best part is the oceanfront view which can come with a private balcony that gives a 180-degree view of the Pacific Ocean.
Pasea Hotel & Spa values your pet greatly so that you can enjoy your stay with your pets. Plan your holiday to enjoy the pool and beach amenities you won't find elsewhere.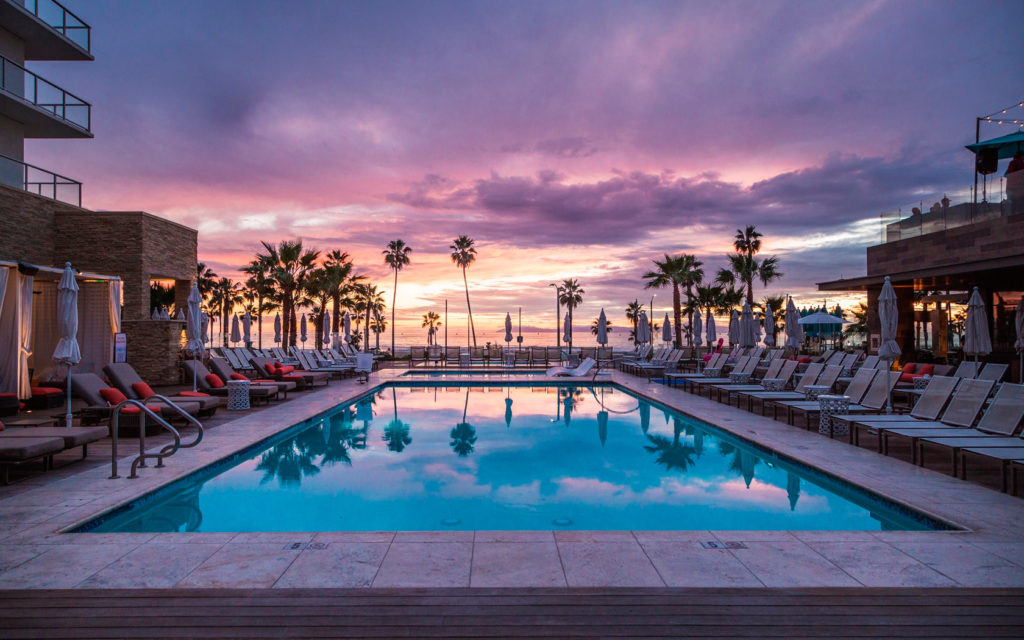 Image source: Pasea Hotel
2. Kimpton Shorebreak Huntington Beach Resort, an IHG Hotel
Kimpton Shorebreak holds a good reputation and has an average 9.2 review rating. It has the perfect coastal vibe, bold interior design, and an open-air patio with cozy fire pits, just the thing you need for a relaxing break.
Have mouth-watering meals at Pacific-Hideaway restaurant with stunning views of Huntington Beach Pier. If you are having a wedding or a business event, Kimpton Shorebreak will provide you with premium services.
You can enjoy a wide range of amenities at this 4-star hotel. Kimpton Shorebreak is worth the time and money.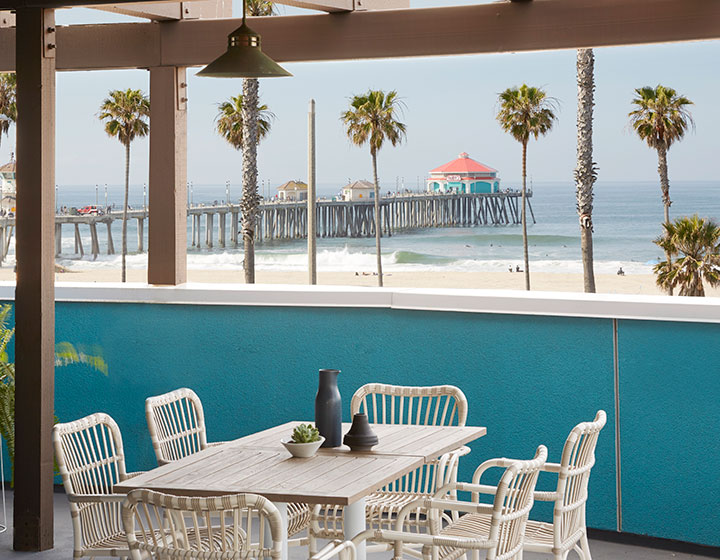 Image source: Shorebreak
3. Hyatt Regency Huntington Beach Resort and Spa
Hyatt Regency Huntington Beach Resort and Spa has a 9.2 rating. Enjoy the Spanish-inspired architecture and magnificent view of the Pacific Ocean with pool and cabanas.
The 4-star hotel offers a Pacific water spa, award-winning restaurants, and luxurious suites. The hotel has also adopted modern trends, including free internal access, charging facilities for electric vehicles, digital check-in, and key.
They also have a pet-friendly policy. People visiting the hotel can bring their pets so that they can also have the beach experience.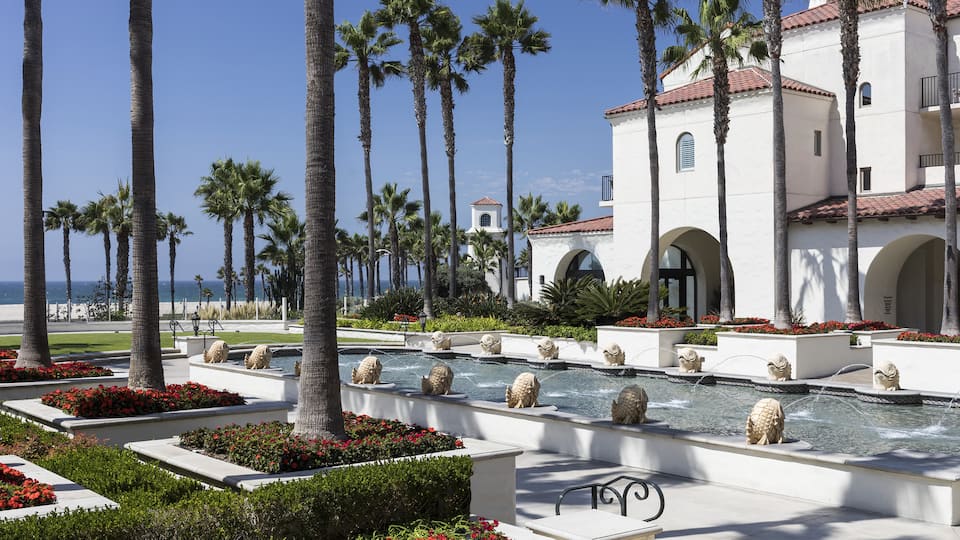 Image Source: Hyatt
4. The Waterfront Beach Resort, A Hilton Hotel
The 4-star waterfront beach resort from Hilton Hotel has an impressive 8.8 rating. Located close to Huntington beach, the Waterfront Beach Resort does not fail to provide a wonderful experience to its visitors.
You are also not very far from the international surfing museum, Pacific city shops, and restaurants. They are only half a mile away from the hotel. Also, enjoy their rooftop lounge, bonfires, spa, bi-cycle, and cabana rentals.
Delight your guest with advanced business centers, meeting rooms, and fine dining. They also offer electric vehicle charging, an outdoor pool, a fitness center, a digital key, and non-smoking rooms. If you are planning a business meeting with luxury, this is the place.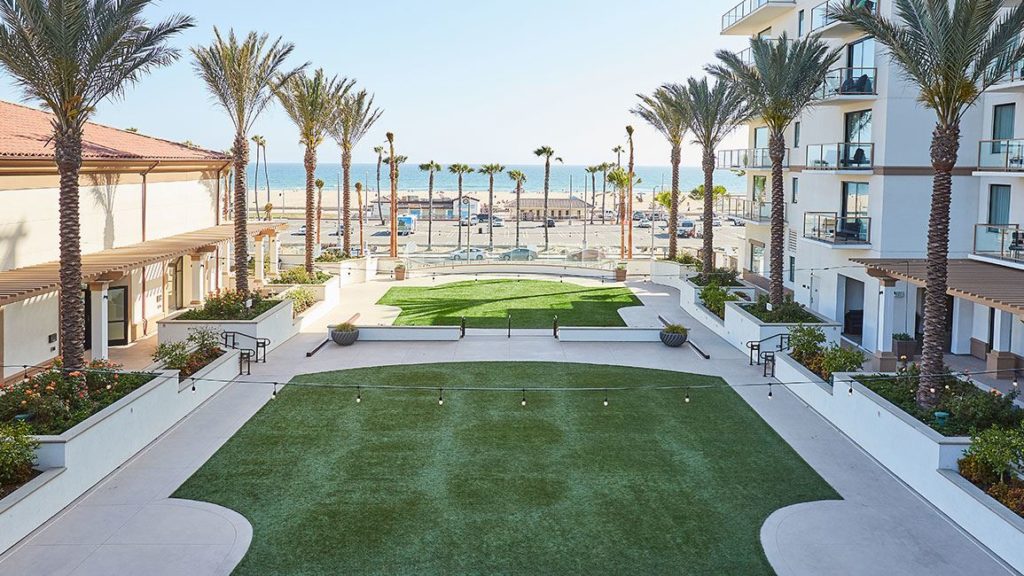 Image source: The Waterfront Beach Resort
5. Sonesta Select Huntington Beach Foundation Valley
Sonesta Select Huntington Beach Foundation Hotel has around 150 rooms, each equipped with standard room equipment and services. Their staff can speak English and Spanish so the hotel can welcome guests from different parts of the world. The hotel has a satisfactory average 8.3 viewer rating.
Sonesta Select Hunting Beach Foundation Valley offers a relaxing visit with its wide range of amenities and perks. They have one of the friendliest staff you will ever meet. Moreover, each room has flat-screen televisions, an HVAC system, and other luxuries.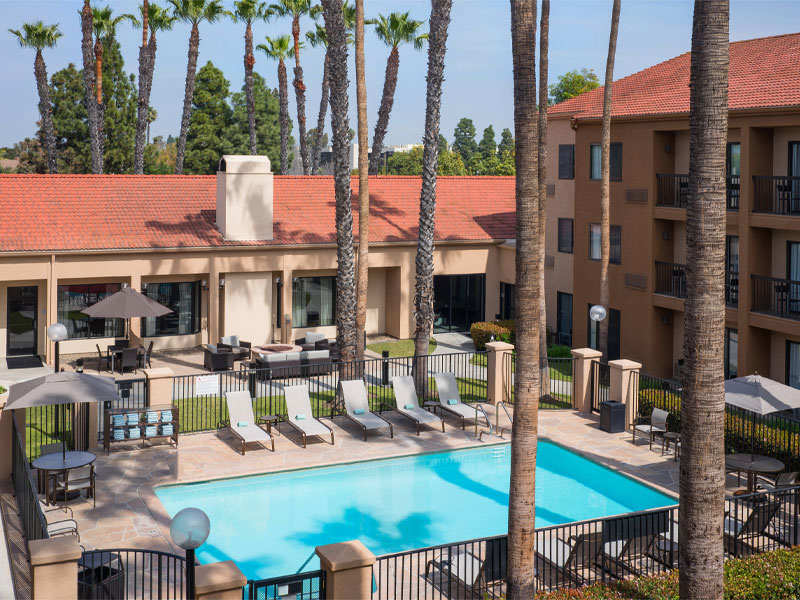 Image source: Sonesta
Plan Your Trip With I Like To Trvl
Plan the ideal vacation with iLikeToTrvl, where you will have all the necessary answers before traveling. Find all the hotels, flights, and insurance info in one place. Visit our website today to book your dream vacation or explore new places to visit.
Related posts